Boku wa Tomodachi ga Sukunai: Volume 4 Sister
From Baka-Tsuki
[edit]
Sister
It was after school, three days before our final exams.
From now until the end of the exams, most clubs were on break, and every student was busy studying for their tests.
Even the Neighbors Club, that had no real set activities to begin with, was no exception, as I sat in the library studying until dusk.
...By the way,
Our school, St. Chronica Academy, is as you'd guess from the name, a missionary school. Hence, it's a Christian school, and has several sisters from the church working here as faculty members.
They teach theology and ethics classes, act as counselors for students, hold mass as well as other religious events, and apparently do a whole bunch of other things too, but I don't really know that much.
I didn't pick theology or ethics in my electives, and I transferred in right in the middle of my junior year, so I've never participated in any events either. Even if I do happen to run into one of the sisters, I generally think of them as having basically nothing to do with me.
Aside from Maria Takayama, the silver haired little girl working as the advisor for the Neighbors Club that is.
As for why I just started talking about sisters all of a sudden, that would be because I just walked past one.
A sister, a sister that wasn't Maria, who I thought had nothing to do with me.
St. Chronica Academy's campus is pretty big, and has a long stone paved path from the gates to the school building itself, with benches here and there that you usually see normals eating their lunches on.
There was a lone sister sitting on one of the benches.
She was completely slouching on it, with both her legs spread wide open and her head tilted back looking up at the sky.
There was a can of cola in her right hand.
She's a pretty big slob for a sister... is what I thought to myself as I began to make my way past her.
However, at the exact moment,
Burp.
Describing it with just "burp" seems a bit off. I think an onomatopoeia like "Goeh!" or "Egyuh!" would've been more fitting, but, anyway, it was a giant burp, just as I'd described it. And it was a sister's burp.
...W-well, sisters are human too. It's normal for them to burp after drinking some cola like everybody else! Even Maria has to take a dump after she eats her potato chips!
I started to walk faster as I desperately tried to stop my vaguely sacred image of a sister from crumbling any further.
But, right as I did,
"Ah~ Hey you lost little lamb over there, holdGEFUHon."
She didn't seem to have much motivation as she talked to me. (That "GEFUH" was her burping, and I'm pretty sure she was trying to say "hold on").
Having her call me a lost little lamb kinda bugged me, but I just kept on walking.
"Hey now~ Don't ignore me little lamb. I am one in the service of God ya' know~ Turning your back on me is, uh, you know, like being a sinner who's turned his back on God."
She sure thinks highly of herself...
I turned around to look at her, and our eyes met dead-on.
She was looking at me.
I looked behind me, but, as usual, there wasn't a single person near me.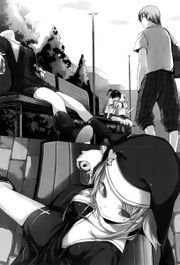 "...Umm... Are you talking to me?" I reluctantly asked.
"Yep, of cock. Oops, I mean of course, buhaha!"
The sister burst into laughter from her own dirty joke.
Kh, she's got a huge weirdo aura (if this were "Dragon Boy" it'd be in terms of power level)...!
She might even be a match for the rest of the Neighbors Club.
While reeling in shock form her aura, I took a good look at her―― It felt like I might start ogling her any minute if I didn't stop.
There was an amazingly beautiful girl in front of me.
She was pretty young too―― I think she might even be the same age as me.
Her silver hair shone in the dusk sunlight.
As did her clear blue eyes.
She was right between "cute" and "beautiful", and her face was so sublime it was like the embodiment of the ideal face for a teenage girl.
She was wearing a sister outfit of course, but you could easily tell she had a beautiful pair of legs, a thin waist, and just the right size boobs.
She looked like she was from Northern Europe, the same as Maria. Actually, I think Maria might end up looking like this miracle super-dreadnought class pretty girl in another 7 years or so.
"Ah~ Time to move these old bones."
She acted like it was a pain to get up off the bench, and walked over towards me.
How can a girl this pretty―― No, even if she wasn't pretty, that's not something someone so young should be saying!
I swear I started feeling dizzy just being near her.
"Haa... Do you need something from me?"
"'Bout that~ S'like you've got somethin' you're worried about. I'm a sister and all, so it's my job to help students with their worries, ya' know?"
Said the sister as she scratched her ass.
"Worries...? Well, I guess I can't say I don't have any."
Our final exams, the thing with Yozora, the thing with Sena, the thing with Yukimura, the thing with Rika, the thing with Kobato, how to get rid of that rubber thing Stella gave me, the weirdo standing in front of me, etc.
How I can't make any friends.
"Yep yep, I so get it~ Lots of stuff happens in life, doesn't it~ Painful things, sad things, etc. I can totally understand why you strayed from the right path~"
"......Um, if you're talking about my hair, it's natural."
I said to the sister who was half-acting like an old man.
"Eh, it's natural?"
"Yes."
"I see~ So that's your natural hair..."
"........."
After a brief awkward silence,
"Well, lots of stuff happens in life, doesn't it~"
Said the sister, trying to change the subject.
She then sighed as if she were disappointed for some reason.
"I thought I'd finally found somebody with a pretty good rockin' feel to them in this school full of prim and proper rich boys and girls too~"
"You make it sound like it would've been better if this wasn't natural and I actually was a yankee..."
I said, feeling a little taken aback, which was followed by the sister affirming my suspicions like it was nothing.
"Hm~ It's probably 'cause 'm the kind of person who thinks young people should be more rockin' rather than be obedient little lambs~"
"Can a member of the clergy really say that?"
I let a tiny sarcastic laugh leak out.
The girl's eyes narrowed after I did.
"The main idea behind rock and roll is to fight the system. Even Christianity started by rebelling against the ideas of the time~ I don't think it's really all that weird."
"Really?"
"Yeah. It started with them going 'No, the way you do things is weird.' and opposing the main sect of Judaism. Then, little Jesus of Nazareth created his own sect of Judaism called the Jesus sect. After that, it started to get called Christianity instead~"
She just called Christ "little Jesus"...
I don't know about any other sisters besides Maria, but even I can tell that the one in front of me is a weirdo.
"That's how it all started, which means that Christianity isn't really a religion based on being obedient girls and boys at all. It was more of an extreme rock group than anything. Back in those days, you'd get done in if you didn't resist, so it's only natural it turned out the way it did."
"Oh...?"
"You know about that famous 'If you're hit on the right cheek, then offer them the other' thing right? That wasn't originally some lame 'violence is bad' message, but was actually meant to say 'Even if you can't physically resist violence against you, never give in' and mock your enemy with as if to say 'That it? I've still got another cheek here.' while facing them head on.' That's the general feeling it used to have, apparently."
"Little Jesus really was a rockin' guy, wasn't he?"
"You know it! He was totally awesome!"
The sister showed me a tender smile.
"But, well, even though I say that, I do think that the peace and harmony the priests advocate is good. It's not like I support violence or war though, and I don't think constantly trying to rebel against society is a good thing either. It's just, I don't think there's any need to always be an obedient little sheep is all."
"...I see."
I gave a meek nod in return.
I didn't really want anything to do with her when she called out to me at first, but that was a pretty interesting story.
I kinda wish I would've taken some theology or ethics classes if people like her were teaching them.
The sister took another sip of her cola. She must've gotten thirsty after all that talking.
"Glug glug...... BURP."
After comfortably letting out another burp, a friendly smile rose to the pretty sister's face as she said,
"Sorry for stopping you and all~ I guess people like to give sermons the older they get."
How old are you anyway...?
"...No, I'm glad I got to hear about it."
"Really? Well, if you've ever got any worries come down to the student consultation room. I'm usually just lazing around doing nothing in there~"
Said the sister before starting to walk towards the school building. While scratching her ass.
She had a, how to put it, aloof feel to her.
If she was a solemn old man that attitude would fit her perfectly, no doubt about it.
"What the heck is up with just 'lazing around' anyway?"
I said with a wry smile on my face.
"Oh, right, do you mind telling me your name?"
I called out to the sister, who then turned around, and said with a gentle smile,
"Kate Takayama. Some students just call me Kate or Mother Kate too."
...Kate Takayama, a sister.
Takayama......... Takayama?
Right as I realized why that name sounded so familiar,
"Oniiiiiiiichaaaaaann! Ahaha, it's Onii-chan~~! Onii-chan is here, ahahahaha!"
On the grass hill beside the stone path (you can see the chapel over it) was one tiny sister charging at me completely unconcerned with what people might think of her.
It was Maria―― Maria Takayama
"Ahaha, I got to meet Onii-chan even though we don't have club today, ahahaha! Uohh! Why why!? This is awesome! Meeting Onii-chan is awesome!"
I rubbed Maria's head like usual, unsure of why she was acting so hyper.
Maria looked up at me with a happy face, and said,
"Hey~ Hey~ Today's lunch was super good! I got an omelet! It was super tasty! Why was it so good!?"
By the way, I always make Maria's lunches on days I go to school.
"Did you like the way I made it sweeter than usual?"
"Yeah! You did very good work! Banzai~! Banzai~! Banzai~!"
Maria happily replied, full of energy.
But, yeah, having someone enjoy the food you made this much is all you could ever ask for.
The omelet I made today was a bit too sweet for me personally, but Kobato said she liked it too, so I think I'll start adding that flavor to more of our stuff.
"Making an omelet sweet is like a miracle, ahaha! Onii-chan, are you the messiah!? You're awesome!"
"No, it's not that big of a..."
I gave a strained smile to Maria, who was staring at me with eyes that were probably shining as much as the eyes of the people who saw the miracles of Christ 2,000 years ago were.
"Oh, right. Hey Maria, about this person here――"
I directed my gaze at the sister―― Kate Takayama.
"Hmm~?"
Apparently Maria hadn't noticed Kate-sensei was there until just now.
"Gyahhhhh!?"
Maria screamed, and ran around behind me, hiding from Kate-sensei.
"W-w-w-w-why is the old hag with Onii-chan!?"
"So you do know her."
I've heard Maria mention Mother Kate before.
According to her, she's "Like my boss I guess. She's a super scary old hag."
I hardly think "old hag" fits a girl as young as her, but then again, you do see little kids acting like middle and high schoolers are way older than they actually are.
Who'd have thought they had the same last name too...?
"Whoooo arrrrree youuuu calllinnng an old hag, huhhhhhh!?"
"Gyahhhhh!?"
Kate-sensei's fearsome voice had Maria hiding even farther behind me, but that didn't stop her from giving Maria a noogie on both sides of her head.
Mom used to do that to me sometimes too, and man, I know that actually hurts quite a bit...
"Fungyahhh! Ouch, it hurts! Stop it! Go die you poopy old hag!!"
A brutal smile rose on Kate-sensei's face as Maria spewed words unbecoming of a sister.
"I told you I'm not an old hag, didn't I? I'm 'Onee-sama', isn't that right?"
"Shut up, poopy crap old hag!"
"Poop and crap are the same thing~ Poopy crap Maria."
"Owwww! Shut up! Die poopy old hag!"
Kate-sensei put more power into her fists, and Maria's screams got louder.
And honestly, hearing two fairy-like pretty young girls like them go on about poop and crap really does not fit them at all...
"Go on, say it. O. Ne. E. Sa. Ma."
"Ghh... Y-you poopy old hag!"
"I'm an old hag, so I didn't quite catch that~ I can't hold back either, since I'm an old hag."
"Ugyahhh! It hurts, it hurts, I'm sorry, I was wrong Hag-sama!"
"Still won't give up, you little brat!?"
"Owwwwwwwwww~~ Forgive me, Onee-sama!"
Kate-sensei finally stopped after Maria apologized with tears in her eyes.
Right after, Kate-sensei directed her gaze at me.
"By the way, might you be Kodaka Hasegawa?"
"Ah, yes!"
I answered in a slightly nervous tone of voice.
"I see~ Maria's always talking about you. Guess you've been taking care of my stupid little sister."
"Ah, no, Maria-sensei is always helping me out too..."
I can't really say Maria has done much for me, but it is true that she's the Neighbors Club's advisor, and she got us a clubroom.
"Wait, your little sister!?"
"Yeah. I'm Maria's Onee-sama."
"Hmph! You're just a poopy old hag, you poopy old hag!"
Thud.
Kate-sensei drove a fist into Maria's head without even looking over at her.
"Fgyah!"
...Maria's sister, is it?
They do both have the last name Takayama, and that silver hair, those blue eyes, and their faces - all look really similar too.
There's no particular reason to doubt that they're sisters, but I was a little surprised, since Maria felt more like an only child to me.
"Hah hah, but now I get it~ So you're the famous Kodaka Onii-chan, huh?"
Kate-sensei happily said, as though she was praising me.
"Well, as you can see, she's a stupid little sister, but take care of her for me, ok Kodaka?"
"Hmph! Onii-chan would do it even if you didn't ask him to, old hag!"
Maria snuck away while Kate-sensei wasn't looking, and stuck her tongue out at her while pulling one eyelid down before dashing off as fast as the wind.
"Make sure you do your work when you get back to the chapel~"
"Don't wanna!"
Maria gave an honest reply before starting to run away again.
"I swear, that girl..."
A bitter smile rose to Kate-sensei's face as she scratched her ass.
She then put one hand on her waist and chugged the rest of her cola.
"Sheesh, why did she turn into such a stupid girl? You *Burp* know what I mean?"
Seeing as how there was no way I could call Maria an idiot in front of her sister, I was left no option but to tilt my head to the side slightly and offer her a forced smile.
"But, well, you... you guys have my thanks."
I was a little bewildered as to why she thanked me all of a sudden.
"You... guys?"
"Yeah, what was it? The Neighbors Club or somethin'? Maria's been a lot more energetic ever since she started being your advisor."
"Really? I can't imagine her not being energetic..."
I said, thinking back on when Maria wasn't so attached to me.
Kate-sensei shook her head.
"It's like, for better or worse, she's gotten more childish. That idiot's been good at studying ever since she was born, and the priests expected a lot from her, so they had her go to a pretty famous elementary school~ She was an idiot who couldn't do anything other than study, so she'd always act conceited and look down on the other kids. It got even worse when she skipped grades in elementary school and realized she was smart enough to go to high school already..."
Kate-sensei said with a distant look in her eyes.
"Kodaka, in an elite high school full of... prideful kids, what do you think would happen if you threw an annoying little runt who mocks people and is smarter than everyone else in there with them?" ...I pictured it in my head.
Unfortunately, it wasn't a very happy scene.
"Anyway, you can probably guess the gist of what happened. Embarrassingly, that was when I, as well as the rest of the adults around Maria, finally realized there were more important things she needed to learn."
I wasn't able to say anything in return to Kate-sensei's sad smile.
"And, well, that's why, I can't possibly thank your little sister―― the 'Poop Vampire' was it?―― enough. Yozora Mikadzuki too; I'm especially thankful to her."
"Yozora?"
I thought that was a little strange.
I can't think of any real relationship those two have aside from when Yozora teases her by turning into evil horse demons and pretty boys.
"In the past, I was hesitant when it came to interacting with Maria. However, Yozora took Maria and dragged her outside of her shell without so much as a hint of hesitation, mercy, or consideration. I think that's what Maria really needed. She's the first person who Maria's 'Good at studying' card doesn't work on at all."
Now that's surprising.
I thought Yozora was really overdoing it when she used violence to force Maria into acting as the Neighbors Club's advisor, but apparently that was actually the right thing to do.
"Although, I do think she goes a little too far sometimes~ Do you think it's ok to make a little girl run outside naked?"
"I-I'm sorry... I'll be more careful in the future."
I reflexively apologized to Kate-sensei, who seemed to be scolding me.
"Anyways, look out for her from now on, ok? Onii-chan."
"Ah, ok... wait, Onii-chan?"
Kate-sensei gave a mischievous smile in return to my confusion.
"You're a junior, right, Onii-chan? I'm still only 15~ So if you're Maria's Onii-chan, that makes you my Onii-chan too, doesn't it?"
"That does make sense... wait, what!?"
I just stood there, bewildered, as Kate-sensei waved at me and said, "Bye bye, Onii-chan!" before happily walking off.
Pbttt!
A sound such as the one above echoed towards me from behind Kate-sensei.
My intuition told me that identifying this sound is something I absolutely should not do.
"Woops, I farted. Ah hah hah!"
...She just cut the last thread tying her to the words "pretty girl".
As I watched her beautiful form (she was scratching her ass again though) move away from me, I thought about how I didn't really want a little sister who farts in front of others like it's nothing.