Boku wa Tomodachi ga Sukunai: Volume 3 Summer Festival
From Baka-Tsuki
[edit]
Summer Festival
It was less than a week before the end of summer break.
The members of the Neighbors Club were lazing around the clubroom as usual.
I was working on my summer homework, Yozora and Kobato were reading, Sena was playing galge, Rika was playing a BL game, Yukimura was just standing there, and Maria was sleeping.
"...Oh yeah, I forgot."
Yozora said all of a sudden, lifting her head from the book she was reading.
"Tomorrow's the day the Tohya Station shopping district holds its summer festival at that shrine nearby."
A summer festival, huh...
Back when I was a kid I helped carry the moving shrines, but other than that I never really went to summer festivals.
Since going to a festival without any friends would be boring...
As I was thinking that in my head, I waited for Yozora to continue, but
"........................"
Yozora didn't look like she was about to start talking again at all.
Instead, she licked her finger and turned the page in her book.
"Umm, is that it?"
Sena asked with a surprised look on her face.
"What do you mean?"
Yozora tilted her head in confusion.
"You just said there's a summer festival down at the shrine in the shopping district, didn't you?"
"I did. I just happened to remember that I saw a bunch of paper lanterns on the way here."
"So that's it...? I was thinking you'd say we should all go there together..."
Sena said, looking a little let down.
"Why do I have to go out of my way to a place full of people?"
Yozora made a face that showed she hated the very idea from the bottom of her heart.
"That's exactly right."
Rika lifted her head up from her laptop's screen, and nodded repeatedly.
"Rika always wanted to go to a certain doujinshi festival held twice a year, but when I got on the train it was way too crowded, and I got off after one stop. Ever since then I've been aware that I'm bad with festivals."
I've seen that doujinshi event Rika mentioned in the news before.
It always lasts three days, with hundreds of thousands of people coming.
I've seen it on TV, and the people there look really intense, so I'm sure even someone who can handle crowds unlike Rika or Yozora would have a hard time.
"But don't people go to that festival because of all the rare stuff you can only get there? Don't you want to get a copy for yourself?"
I asked, having just realized that little problem.
"Ouch, that's a delicate spot you just hit there, Senpai. Girls don't like it if you do it too quick and make it hurt, you know. Please be gentle to your first, ok?"
"Quit trying to drag your dirty jokes into this."
I said, disgusted, to which Rika made a serious face and said,
"But if you take Rika's dirty jokes away what else is there?"
"There's plenty, isn't there!? Like how you're a genius inventor, and a scientist, and are kinda cool, and wear glasses and stuff... Have some more confidence in yourself."
"Those are all to give people a different impression of myself so that the dirty jokes stick out even more. Dirty jokes are Rika's bread and butter."
"Why are you so hooked on dirty jokes!?"
You'd be so much cuter if you didn't do that... It's such a waste...
"By the way, for stuff that doesn't get sold in a shop later, I have an acquaintance pick it up for me. Usually someone from the game company I work at or something. It wouldn't be an exaggeration to say that that's the only reason Rika works at that game company."
"Oh? You really plan ahead to cover for your hikikomori tendencies."
"Ehe~"
Rika puffed her chest out in pride slightly.
"...Although I wish you'd just stop being a hikikomori entirely."
"Ahh, that would be impossible."
"At least try. I dunno about doujinshi, but when you get that one thing you were after at a bargain or limited time offer, it feels pretty good. The harder you work to get something the more rewarding it is."
"I see... Kodaka-senpai, you're surprisingly aggressive, aren't you?"
"...Well, I suppose you might be right about that."
"You're not a dog that's satisfied with being given food; you're like a proud wolf who only sees value in things gained using your own power... or rather, a proud hawk!"[1]
"...T-that doesn't sound too bad."
I was a little embarrassed.
"...Hmm, it might be a good idea to switch from the 'Devour me, the Defenseless Little Rabbit' route to the 'Ufufu, Catch me if You Can~' route now..."
"What are you talking about..."
I sighed at Rika, who was probably imagining something I don't want to know about.
"H-hey, Kodaka."
Sena called out to me.
"Hm?"
"Do you think that... a-at summer festivals they have takoyaki stands?"
Sena asked, seemingly embarrassed for some reason.
"Well, if they've got stands then a takoyaki one is practically a given."
"I see... takoyaki..."
Sena murmured with a spaced out expression on her face.
"Do you like takoyaki?"
"I-is there something wrong with that!?"
"Of course not, I love takoyaki too. Back when I lived in Osaka, I couldn't really fit in with our neighbors or the people at school, so whenever I was feeling down Dad would buy me some takoyaki from a famous shop that'd cheer me up in an instant.
"Hey, hold it Kodaka, I might like it, but I'm not that crazy about it, ok!? I just like it because of the taste like any normal person!"
Sena said, flustered for some reason after my more serious comment.
"You don't have to be shy about it, takoyaki is great stuff."
"No, it's not that I'm acting shy..."
"Takoyaki is amazing. Good takoyaki can free someone from all their troubles... Actually, I kinda have a thing against people who sell crappy takoyaki like it's no big deal..."
"Eek...!?"
Sena backed away from me with a scared look on her face for some reason.
As she did, Kobato came over and started tugging on the sleeve of my shirt.
"Kukuku... I'll forgive you for not offering me any takoyaki in a long time if you're careful..."
"What, you want to eat some takoyaki, Kobato?"
"Takoyaki!? Onii-chan, I want to eat takoyaki too!"
Said Maria, who was sleeping on the couch and sprang up all of a sudden, while still wiping the drool from her mouth.
Kobato and Maria both gave me crazy stares.
"Hrm... Then wanna go together? To that festival tomorrow."
""Yeah!!""
Kobato and Maria both yelled full of energy, and then glared at each other.
"Mu... Why are you going too, abominable pawn of God..."
"I want to go with just me and Onii-chan! You can stay at home, poop vampire!"
"Ughhh!"
"Fghhh!!"
I pulled them apart and gave them a little warning.
"If you can't get along, then we aren't going."
"Kh... I have no choice... Joining hands with one of God's servants is a small price to pay for takoyaki..."
"Me too! I'd sell my soul to the devil for takoyaki!"
Both Kobato and Maria replied.
It worries me how easily they give up their beliefs when it comes to food...
As I was worrying about them, Sena raised her hand.
"Hey! I might as well go too if all of you are! I want to eat takoyaki too!"
"Sounds good to me."
Then Yukimura said in his calm voice, "Aniki, I too wish to accompany you."
"Sure, then the five of us can go together."
"Ok." answered Yukimura in an upbeat tone of voice.
"Heheheh" went Sena as a big smile crept onto her face.
"H-hold on, Kodaka!" "Please wait, Senpai."
Yozora and Rika both yelled out in a hurry.
"I'm going to that festival, too." "Rika is going to the festival, too."
"Huh...? Aren't you guys bad with crow-..."
I started to ask, when they yelled back in harmony,
"It's for the takoyaki!" "It's for the takoyaki!"
I can certainly understand wanting to get some takoyaki no matter what, so I left it at that.
☺
And so, before I knew it, it was the next day just before seven at night.
Kobato and I arrived at the bookstore in front of Tohya Station's shopping district, which is where we had decided to meet up.
It's a fairly big shop that I stop at on the way home from school every now and then, and also relatively close to the shrine where the festival is being held.
By the time we got there, Yozora, Yukimura, Rika, and Maria were all there already, waiting.
"Umm... D-do you think it looks good on me?"
Rika said, acting shy.
Seeing Rika in something other than a lab coat was a rare, and I mean really rare sight for her.
She was wearing a yukata, and had her hair down instead of in a ponytail like usual.
She looked like the typical pretty long black haired girl, and the yukata fit her so well I could barely recognize her.
"Wow... so you can do it if you try..."
"Muu~ What's that supposed to mean? Please give me a more direct compliment."
Rika cutely puffed out her cheeks upon hearing my response.
"You look ridiculously good in that."
I decided to tell her my honest feelings.
When I did, Rika's cheeks went red as she said,
"I-it's too embarrassing if you're that blunt about it, stupid Senpai."
"What do you want me to do then? Make up your mind."
As for everyone else, Yukimura was in a yukata too... which was of course a girl's one that looked way too good on him.
Maria was in a mini yukata with short sleeves, which looked good on her too. Yozora was in a shirt and jeans, giving her that gender neutral look she always goes with.
Kobato and I were in our normal clothes.
The reason being that we didn't have any yukatas to wear, and even if we did I doubt I'd have the courage to ride the train here while wearing one.
"So the only one left is Meat, huh? That's perfect, let's go then."
Said Yozora, who looked to be in a grumpy mood as she leaned against the bookstore's wall with her arms crossed.
"What do you mean 'that's perfect'? Stupid Yozora."
A voice came from behind.
When I turned around, I saw it was Sena in a yukata.
She didn't look very Japanese, but that flashy flower-pattern yukata fit her so well it was scary.
I was so captivated that I stood there just staring at her.
Smack!
Getting hit on the head from behind out of the blue like that brought me back to my senses.
Yozora was the one who smacked me.
"What was that for?"
"Nothing much. Anyway, let's get going."
Yozora seemed to have gotten even more grumpy all of sudden said as she started to quickly walk away.
"Ah, hey, wait for us!"
We all hurriedly followed after Yozora.
☺
The shrine was full of people, just like you'd expect it to be.
There were goldfish scooping and shooting gallery stands set up, and there were tons of good smells coming from the food stalls, which included our sought after takoyaki.
I hadn't eaten dinner, so I wanted to go and buy something to eat right away, but before that we decided to rest under a tree a short ways away from the festival with no people near it, since Yozora and Rika asked to take a short break with tired looks on their faces.
"...Kodaka, what's this all about?"
Sena asked in an annoyed voice all of a sudden while we were resting.
"Eh, what do you mean?"
"I'm talking about Kobato-chan! Why isn't she wearing a yukata even though we came all the way out to this festival? Are you kidding me?"
"It's not like you have to wear one to festivals."
You could see tons of other people not wearing yukatas in the crowd.
Honestly there weren't even that many people wearing them. It felt like at best 40% of the girls and 20% of the guys had one on.
"Who cares what all those commoners do! I want to see Kobato-chan in a yukata!"
"Like I care! Besides, neither of us even has one!"
"Then go buy one this instant! This is common sense damn it!"
"Why should I waste money on something I'm hardly ever going to wear!?"
After I said that I heard a voice from my side,
"Senpai, I saw a second-hand shop on the way here that looked like it was renting yukatas."
Rika's words made Sena's eyes shine as bright as the sun.
"We're going there now! And getting you a yukata! Kobato-chan, you want to wear a cute yukata too, right~?"
Kobato then looked at Sena, me, and Maria before giving a little nod.
"...Alright, I suppose we might as well since we're out here."
"Yeah...!"
Kobato nodded again with a tiny, but happy smile.
As she did, Maria's stomach grumbled.
"Hey~ Hey~... I want to eat some takoyaki."
"Kukuku... You can spend the rest of eternity here..."
Kobato laughed at her, but leaving Maria hungry and alone feels kind of wrong, so I asked Yukimura,
"Yukimura, can you go buy some takoyaki for Maria? We'll have some too when we get back, so grab at least 4 and some other stuff you think looks good too if you don't mind."
"Very well."
Yukimura said in a lively voice.
"I shall gladly serve as your errand boy, Aniki."
I have yet to discover why being an errand boy is so fun, but no sooner had I asked than had Yukimura walked off into the crowd of people.
"Ok, let's go get those yukatas now!"
Sena said, pushing us along.
"Come on, you're coming too."
She called out to Yozora.
Yozora had a surprised look on her face for a second, but she quickly shook her head.
"I don't need a yukata."
"Honestly, you do look half-decent and all, so don't you think it'd be a waste to not wear one?"
"Yeah, you'd definitely look good in a yukata," I added.
I was in complete agreement with Sena. A pretty Japanese girl with long black hair like Yozora would probably look the best in a yukata out of all the Neighbors Club members.
"...I-I'm fine. I don't like wearing those kinds of clothes."
Yozora's face went a little red before she quickly turned away from us.
I wasn't sure if "those kinds of clothes" just meant yukatas themselves or something else, but if the person herself doesn't want to wear one then there's nothing we can do about it.
Thus, Kobato, Sena, and I headed to the second-hand shop as a group of three.
☺
The second-hand shop was easy to find, and while it was fairly busy we didn't have to wait long before renting our yukatas.
The salesperson helped me put mine on, and I ended up waiting at the entrance for Sena and Kobato.
I've only really worn one when I was a kid, but I do think Japanese clothes are pretty nice to wear.
Ever since I saw Sena's father, Pegasus Kashiwazaki, wearing traditional Japanese clothes, I'd been thinking about how I wanted to try wearing the same kind of thing too, so getting the chance to do that now feels really satisfying.
After waiting a while, Kobato came out in a mini yukata like the one Maria had on along with Sena, who had a look of ecstasy on her face.
"An-chan... how do I look?"
Kobato asked, tilting her neck.
"Cute! Cute cute cute too cute so cute I want to eat you up! Haa haa..."
That was of course Sena speaking, not me.
"It looks good on you."
I pet Kobato on the head and she made a tender smile.
"You know, you... umm... I've got this sense of déjà vu when I look at you..."
Sena looked at me and made an odd face.
"Hmm, what was it..."
"?"
"Hmm...... Ah, I know! You look just like this stupid guy I saw on the news who went nuts and got arrested at a coming-of-age ceremony!"
"Wha...!?"
And to think I liked this outfit...
Honestly, that was quite a blow to me.
"Well, nobody really cares about your clothes anyway. Come on, let's go Kodaka, our takoyaki is waiting for us."
Sena started walking away, oblivious to my feelings, and I simply hung my head as we left the store.
As we were walking in a line that went Kobato, me, then Sena back to the shrine,
"So hey, you know, that weird hair of yours is a problem."
"Hair...?"
"If you did something about that hair of yours that looks like a failure of a pudding, I bet even a yukata would look normal on you. You do have that evil look to your eyes which might make you look like a Yakuza instead, but it'd still be better than how you look now."
...A "failure of a pudding"? That hurts...
"Actually, isn't the main reason people think you're a delinquent at school because of that hair? Why don't you just dye it all black?"
Sena's words put a bitter smile on my face.
"I know that dying my hair would help things a lot, and a long time ago I did think about doing it, but..."
I said, which made Sena make a confused face.
"When why don't you dye it? School rules?"
"No."
...Ah man... what should I do here?
This isn't something I really want to talk about.
I guess it's ok since Sena knows about our family though...
"...You know that our mom isn't with us anymore, right?"
"Ah... yeah," Sena said, nodding awkwardly.
I could tell Kobato's face clouded over too.
"I've got black eyes like my dad, and my skin is kinda dark like his too. It's like, I don't look very half-Japanese... I do wish I had all blond hair like our mom's like this one here has though."
I said while rubbing the Kobato's head as she silently walked along.
"...But even so, this is pretty much the only thing you can see on me that I got from our mom. So for me, dying it would be like rejecting the thing that ties me to her."
If you wanted to make a big deal out of it, you could say that to me, my hair is proof of my bond with our mother.
"...Even if it causes me a bunch of hardship, I still think it's not something I should reject."
I didn't plan on saying all that, but somehow the words just found their way out.
"Kodaka..."
Sena stopped walking, and stared at me.
She then said,
"You really aren't like all those other guys, are you?"
She flashed me a smile that sent my heart racing, and then started walking quickly in front of us.
☺
When we got back, Maria had already devoured her takoyaki, among other things.
The takoyaki, hot dog, yakisoba, fried squid, roasted corn, etc...
Every single container was at least half-empty.
"You bought so much... and Maria, you ate all this?"
I was shocked, but Maria, who had sauce all around her mouth, just looked over at me with a big smile on her face as she stuffed more takoyaki into her mouth and said,
"Ahya! Onii-hyan you're bachh!"
"Finish your food before you talk, Maria."
Gulp.
"Onii-chan, you're back! This place is amazing! Is this heaven!?"
So she said, as she reached out, this time for the fried squid.
"How much are you going to eat..."
Yozora said with a fed-up look on her face as she slowly licked away at a candied apple.
"Nchu... slurp slurp... nn... nnahh... ah, Kodaka-senpai, you guys can have some too."
Rika said while licking a chocolate banana.
"Nn... slurp... puahh..."
She kept on shoving it in and out of her mouth while licking it from the bottom to the top. It looked really weird.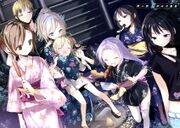 "Why are you eating it like that..."
"It's practice so I look sexy when I eat bananas. Did it get you horny?"
"Not in the least."
I said, as we all started eating.
I'll start with takoyaki, since that's what we came here for. I stuck a toothpick into one of the takoyaki, and brought it to my mouth.
......Strange.
Even if you ignore the fact that it's a little cold after sitting out for a while, this is strange.
The batter tastes weird, it isn't fried very well, and most importantly, there's hardly any octopus. I can't believe this.
Despite that, Maria was enjoying it, and neither Sena nor Kobato looked unsatisfied either.
I'll have to teach them what real takoyaki tastes like...
...I wonder how much a takoyaki frying pan would cost me.
"Hey~ hey~ Onii-chan! What's the stuff that looks like a cloud!?"
Maria pointed at another group of the festival's visitors.
It was a group of girls eating cotton candy as they walked by.
"That's called cotton candy."
"Cotton candy? Is it cotton or is it candy!?"
"It's candy."
"Ohh~ So that cotton stuff is candy~ That's pretty weird!"
"Want to try some? The cotton candy I mean."
"Can I!?"
"I was more asking if you could even eat anymore."
Maria, who had eaten a considerable amount of food by now, answered,
"I'm fine! The old hag told me I could eat as much as I want today! She even gave me 1000 yen in pocket money! I'm gonna eat until I'm sick!"
"Just don't overdo it."
I chuckled at Maria, whose eyes were sparkling.
By the way, the amount of food Maria had eaten so far was obviously over 1000 yen.
☺
After buying some cotton candy and baby castella cake and eating all of it, we were all feeling full.
"Ok, now that we've filled our stomachs..."
"Go home?" "Shall we go home?"
Yozora and Rika both said in response to Sena.
"Eh!? Go home!?"
"We already ate our takoyaki, we don't have any other reason to be here, do we?"
Yozora coolly said to Sena who was in a flurry.
"T-that might be true, but since we're all here I thought we could do something..."
"What, Meat? Do you want to go goldfish scooping or ring tossing at your age?
"T-that's not what I meant, but... it is a ruler's job to join the commoners in their recreation..."
While she was muttering something,
"Actually, wait, you just want to go home because you're scared of losing to me at all the games here, aren't you!?"
Sena started to provoke Yozora, but she casually said,
"I said that I don't like being in crowds of people. You have an awful memory, Meat."
"Uu..."
"...But, this is much better than that pool was. It might not be a bad idea to give this uppity piece of meat a taste of reality..."
Yozora glared at Sena, and sparks started flying between them.
"T-then let's go. First is, let's see... I've been wanting to- I mean, let's start with goldfish scooping!"
...Somehow things ended up this way, so the rest of us followed Sena and Yozora into the shrine's grounds.
"Hehe, your goddess has come to save you, little goldfish."
"Hmph... I'll crush those pathetic delusions of yours. I'm the real god here."
Sena and Yozora said at the goldfish scooping stand as they paid the owner and each took a bowl.
"I don't think I have to say it, but just to be sure, whoever catches the most wins."
"I know."
Sena said, to which Yozora nodded.
"...Sena, you do know this is goldfish scooping not goldfish saving right?"
I quietly mentioned.
"Generally goldfish who don't get scooped out by the end of the festival get turned into manure or other fish products, so I don't think saying she's saving them is necessarily wrong."
Rika casually said.
"Really...? Goldfish have it rough too, huh..."
Shortly after, Sena and Yozora's battle began.
"Ei!" "Yah!"
They both yelled full of spirit as they went into the fish tank... which obviously ended in their paper nets ripping because they put too much strength into it.
"What's with this crappy net!? It totally broke!"
"...Well yeah, 'cause it's made of paper. Goldfish scooping is about scooping out the goldfish without letting it break."
I said, pointing out the obvious.
They both quickly bought new nets, but neither of them could really get the hang of it. They kept of failing, getting more serious, and spending more and more money. I'm sure the old guy running the stand loved them.
"Ahh, geez! If you don't let me save you this instant I'll kill you, damn goldfish!"
"To think you, little fish, barely worth a few yen fee to catch you would make me spend 600 yen...!" Sena and Yozora both started getting pissed and yelling at the fish.
"Ahh, come on! Give me ten nets at once!"
Sena handed the owner a 1000 yen bill, and got 10 nets all at once.
Sena gathered them all up in one hand, and swung at the fish.
A bunch of them broke, but she managed to get one goldfish into her bowl.
"Wha...!? You cheater!!"
"Heh heh, this is just my strategy."
"You just used money to win god damn it!"
Yozora complained about Sena's methods, but Sena simply kept on happily staring at the fish she caught.
"...I wish you'd refrain from doing that in the future... I'll let it slide this time, so do you mind going somewhere else now?"
The old guy running the stand said with a tired look on his face.
No matter how much money they were giving him, causing such a big ruckus in front of his shop can't be good for business, so I can see why he'd want to get rid of them as fast as possible.
Thus, the battle of goldfish scooping technically ended in Sena's victory.
"Hehe, you should be thankful."
Sena said lovingly to the black pop-eyed goldfish she was carrying in a take-home plastic bag.
"Let's see~ From now on your name is Kandata. Be grateful for it."
Sena had a big grin on her face, but Yozora still looked angry as she said,
"Meat. We're doing that next."
Yozora pointed at a katanuki stand.
"Heh heh, it's obvious I'll win no matter what we do anyway though. Right Kandata♥"
They both walked over to the katanuki stand.
I sighed and started to go with them, but Rika pulled on the sleeve of my yukata.
"Kodaka-senpai, want to ditch them and go do our own thing?"
"......"
After thinking for a short while,
"......Yeah, let's do that." I nodded in agreement.
☺
Rika, Yukimura, Kobato, Maria and I went around to the various stands.
Kobato and Maria fought over every little thing like Yozora and Sena did, but they were much cuter compared to those two.
They both got a water balloon with rubber bands attached from one stand, and were happily bouncing them up and down.
Yukimura and I were mainly there to carry stuff.
Rika won a bunch of stuff from the shooting gallery, and it fell on us to haul it around.
There was a stuffed animal, fireworks set, candies, figures, video games... and the newest game system, the PS3.
I always thought those game systems were there to get people to come and would never fall down, but I guess they do if you try hard enough.
...It might've just been my imagination, but the sound of the gun seemed louder when she hit the PS3.
By the way, the guy running the stall made a pale face that said "That's impossible..." when it happened.
"Now that I think about it, Rika already has a PS3. You can have this one, Senpai, since having two is pointless."
"Seriously?"
"Yes. Please think of this as if it were Rika herself and play with it every day."
"I dunno if I can take something this big... Let's set it up in the clubroom instead."
"No wayyyyy~"
As we chatted and walked around, we ran into Yozora and Sena again.
They were both carrying a bunch of prizes.
"Kodaka! Where did you go!? I thought you'd carry all this stuff."
Sena complained to me.
Yozora did the same,
"These prizes are in the way and we can't continue our match. Help me carry this stuff, Kodaka."
"No can do, just look at me."
I held up the prizes I was already carrying.
"A-a PS3...!?"
Yozora was speechless after eyeing the PS3 among the prizes.
"Just call me Bullseye Rika."
Rika said full of pride, which made Yozora and Sena look at each other and then sigh.
"Haa... Looks like we'll end here then. Carrying this all on the bus or train back will probably be a pain, so I'll have Stella come pick us up in the car," said Sena.
"Hmph... That's fine, I highly doubt you would've come back and won even if we continued..."
"What're you talking about? I had a 1 win lead on you."
"That first goldfish scooping one doesn't count, you idiot."
"Why not!? Financial power is still my own power!"
"Who're you kidding? You should be thankful I didn't make you lose automatically for cheating, you damn swine!"
Yozora and Sena continued their noisy argument as they walked and carried all the prizes they won.
It makes me wonder how many stand owners they nearly brought to tears with their little competition.
Anyway, that's how we ended up leaving the festival grounds.
☺
After we returned the yukatas we rented, we gathered up at a tiny park just outside the shopping district.
Stella, the steward of the Kashiwazaki family, said she was coming to pick us up, so we were waiting for her at the park.
Although, she had to come from the Kashiwazaki estate, so even if the roads were nearly empty it'd take her a good 30 minutes to get here, giving us plenty of time to kill.
We decided to gather up the tons of prizes we won into one big pile.
Yozora and Sena started some fight over who won the most stuff, but it didn't look like they had much interest in the prizes themselves.
The only special one was Kandata the goldfish, which Sena held onto like it was her treasure.
I noticed we had several fireworks within the spoils of war from earlier tonight.
Rika won a big set of fireworks at the shooting gallery, and it looks like Yozora and Sena won some too.
"Hey, wanna set off some fireworks while we're out here? We've got a bunch of 'em and all."
I suggested, which prompted a "Fireworks!?" from Kobato and Maria with their eyes sparkling.
"...I agree. They'll just get too damp to use if we don't use them now anyway. We haven't had any chances to do them before either."
"I've never launched any fireworks except in galge, it sounds like fun."
Yozora and Sena said, in addition to Rika and Yukimura also agreeing, so we decided on setting off fireworks in the park.
Luckily, there was a convenience store nearby, so we were able to buy a bucket, wax candles, a lighter, and a bottle of tea.
We put the tea in the bucket, lit some of the candles on fire so we could put wax on the asphalt, and then stuck the other candles in the wax.
We each picked out a firework we liked, and took turns lighting it with the candles we set up.
Our seven fireworks made a crackling noise, and lit up the night with their vivid colors.
"Ohh~! Fireworks! Fireworks~! It's on fire! It's totally on fire! Ahahaha!"
Maria ran around swinging her sparkler around.
"Kukuku... You would do well to observe my secret demon blaze technique... Come and be burned to ashes by the flames of purgatory, Megiddo Flame...!"
Kobato lit a second firework, and starting doing a weird dance (she probably thought it looked cool) while holding them in both hands.
"Doing two at once? Not bad! I'll do that too!"
Maria copied Kobato, holding two fireworks as well.
"Don't copy me, moron!"
"I'm not copying! I look way cooler than you! This is a special holy technique given to me by God!"
Maria started doing her own weird dance in opposition to Kobato's.
"Kh, not bad... but you have much to learn...!"
"Ohh, that's a pretty cool pose! Ok, then I'll do this!"
"You impudent, little... Fine, I shall show you my ultimate black magic...!"
There they were, having some competition I'm not quite sure how one is supposed to win at.
"...You need a certain amount of skill to make fireworks, don't you... I think I'll make them my next research subject."
Rika said with a serious look, not budging an inch as she stared at the fireworks.
That's pretty "genius inventor girl"-like of her, maybe she's not so bad after all.
"The dreams of man are fleeting... and the life of a man is the same, disappearing in an instant much like a firework."
Yukimura quietly said while staring at his sparkler.
Why is he acting like this right from the get go...
"Triple Fireworks...!"
Yozora grabbed three fireworks in one hand and then lit them.
"Uwa, what a waste!"
"What's it matter? We have a bunch!"
Yozora said in a slightly upbeat voice.
"Yeah, I guess you're right."
My firework had just run out when I saw her do that, so I grabbed three fireworks and lit them all at the same time like Yozora did.
It's only obvious, but the pretty flames it shot out were much bigger now that I had three.
"Heh heh, that's still not enough! I'll light four of these big ones at once!" declared Sena.
Eh... big ones?
The fireworks of which Sena held two in each hand, were pretty fat ones that were about two centimeters in diameter.
They also each had a plastic plate on the bottom.
"You idi-! Wait, those are-!"
Before I could fluster my way over and stop her, Sena stuck the fireworks down by the candles on the ground and lit them.
"Uwa, Meat you idiot! Those ones aren't meant for holding in your hands!"
Yozora noticed what she was doing too, and backed away with a startled expression on her face.
Sena was holding the big kind of fireworks that you leave on the ground and watch from a distance.
And she was holding four of them at that.
"Eh...?"
Just as Sena's face went stiff, the four big fireworks let out a blast of flames that were much much bigger than the ones made to be held in one's hand.
"Wh- Eh- Whaaaaaa!? S-save meeeeeee!"
Sena ran over to Yozora, half in tears, while shooting flames out from her hands.
"S-stupid Meat! Stay away from me!"
"Don't say that, do something! It's hot~~"
"L-like I care!"
Yozora running away in a panic, and Sena chasing her in tears.
...Quite the strange scene.
They continued their stupidly dangerous game of tag until Sena's fireworks burned out.
Luckily the fireworks weren't made to last long, and it looked like neither of them had any burns.
"God damn, that idiot...!"
Yozora lit a new firework while breathing heavily.
Naturally that incident seemed to be a big shock to Sena, who sat alone on a swing in the corner of the park while the rest of us enjoyed the fireworks.
When we ran out of the smaller fireworks you could hold and moved to the bigger ones, Sena got up and watched from a slightly farther distance than the rest of us.
By the way, Yozora was the one using a lighter to light the big ones, and I'd like to believe that sadistic smile I saw on her face every time she went to light one was just the way the light from the flames happened to make her look.
We kept on going, doing this and that, and before we knew it we had used up most of our fireworks.
The only one left was the largest big-type firework we had that we all ended up calling "The Last Boss", which we then got ready to light.
Yozora set up The Last Boss on the ground, and the rest of us all gathered around it.
"Ok, here we go."
A happy smile rose to Yozora's face as she lit the fuse with the lighter, and then backed away.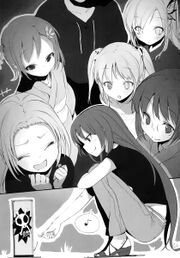 We all waited in anticipation, wondering what kind of crazy firework it'd turn out to be as the flame slowly burned its way across the fuse over to The Last Boss.
Then at last, it reached the end of the fuse, and-...
Pyuuuuuuuu, blup.
A single thread of light was launched high into the sky along with a high pitched noise before exploding with a dull sound and letting off some faintly shining light.
...Well, I can't say it wasn't pretty, but it felt like a let-down.
Everyone else had the same disappointed expression I did.
"...Hrm, that was as pathetic as Meat..."
"What's that supposed to mean!?"
Yozora said, showing her disappointment, before approaching The Last Boss. However as she did,
Hyuuuu, bang! Hyuuuu, bang! Hyubababang!
Hyuuuu, bang! Hyuubabang! Bababababang! Babang!
Pyuuu, bang! Bang! Bang! Babang! Bang! Bababang!
Several more blasts of light were launched out, each exploding in rapid succession.
*Sparkle sparkle sparkle*...
Each of the sparks had a different color, and after they had all exploded a sea of rainbow lights danced in the sky.
"Ohhhh!"
I let out a voice, dazzled by the spectacle.
"Hmph, just when I think you're pathetic you pull that off. Not bad Last Boss..."
Yozora stood still, staring up at the sky with a satisfied smile on her face.
"Heheh, see?" said Sena in a happy voice for some reason.
The stream of lights eventually subsided and then disappeared completely.
It had a tinge of melancholy to it, but that only made it that much more vivid.
"Phew," sighed somebody, which prompted Yozora into going over to The Last Boss.
However, as she went to grab it,
SHUUUUUUUUUU!!
"Uwa!?"
More fireworks came out from The Last Boss like a water fountain, which sent Yozora jumping back with a scream.
"There's still more!?"
"Powering up at the last minute when you think he's done for, he truly is a last boss..."
Rika said in a voice full of admiration.
The Last Boss continued to shoot out a rain of colorful flames as if to say "Allow me to show you my true power!" or something.
The newly revived Last Boss took about 30 more seconds to burn out completely.
...As for the overall impression of seeing the whole thing, well I guess I'd say it was average.
Honestly it had a lot of flashy colors, but it didn't really leave much of an impact on me.
Anyway, this time was really the end.
All that was left now was to put The Last Boss's corpse in our bucket of tea and clean up.
Today was... really fun.
I truly felt that way.
But then, all of a sudden,
The faint smell of something burning floated into my nose.
"Huh... do you guys smell something?"
"Well yeah, we just set off a bunch of firewo- Wait, huh? This doesn't quite smell like gunpowder."
Rika tilted her head.
"Gyahhhh!? H-hey, Yozora! Yozora your hair is on fire!"
Sena let out a scream.
--Yozora's hair was... indeed on fire.
On the end of her long black hair, there was smoke coming from a tiny red flame. It probably caught on fire when she was watching the The Last Boss from so close by.
"Eeeeek!?"
Obviously, even Yozora's face would be twisted in fear after realizing her hair was on fire.
"W-water! Water!"
I spat out in confusion.
"Aniki!" Yukimura ran over to me with our bucket.
"Thanks! Yozora turn around!"
Luckily, the fire wasn't that big yet.
I'll throw this on her and put it out right away!
"O-ok!"
Yozora turned around, and I threw our bucket of tea (which was filled to the brim with black, dirty liquid from all the fireworks in it) all over her.
The flames went "hsssss" and disappeared.
But unfortunately, Yozora's beautiful hair and clothes were in really bad shape.
Nobody said a word.
It was so quiet it hurt, but eventually,
"......I'm going home."
Yozora announced in an emotionless voice without so much as looking back at us, before slowly walking out of the park.
I don't know what kind of face she was making, but she looked incredibly fragile as I watched her from behind.
The rest of us all stood there silent, unable to move an inch until Yozora's silhouette faded into the darkness...
Translation Notes:
↑

Kodaka's name has the character for Hawk (Taka) in it.