Boku wa Tomodachi ga Sukunai
From Baka-Tsuki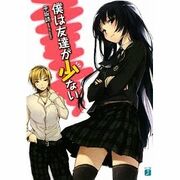 The Boku wa tomodachi ga sukunai series is also available in the following languages:
(Note: Translation progress varies for each version.)
---
Story Synopsis
Kodaka Hasegawa is just trying to get through his school life, but one day he sees the cute but forever pissed off girl Yozora Mikadzuki alone happily talking to herself. "Can you see ghosts?", he asks her, to which she responds "I am just talking to my friend here. My air friend!" (She is a goner…) Kodaka and Yozora start discussing how to make friends, and Yozora, with her excessive proactiveness starts a tragic club. Then, as things get more complicated, one by one other 'regretful' cute girls also join the club. Together they play games, go swimming, and they put together stage acts. Can our hero, who got suckered into the mess, become good friends with others? The even-though-it-really-leaves-much-to-desired-for-but-still-very-entertaining tragic youth romance story has been born!
Series Information
Genre: Comedy - School life
Japanese Title: 僕は友達が少ない
Author: 平坂読(Yomi Hirasaka)
Illustrator: ブリキ(Buriki)
Volume: 1-8
Series Finished: No

Awards
Kono Light Novel ga Sugoi! (このライトノベルがすごい!) 2011
2nd place in Best Novel Series, Hirasaka Yomi
2nd place in Best Illustrator, Buriki
4th place in Best Female Character, Kashiwazaki Sena
Translation
If you enjoyed the chapters, why don't you tell us in the Feedback Thread
Those who wish to contribute are asked to first notify a supervisor beforehand.
Translators are asked to register which chapters they're working on
Format Standards
Every chapter (after editing) must conform to the general format guidelines.
Updates
14 June 2012 - Volume 6 It's A Date No Matter How You Look At It. Seriously, etc. Completed
22 June 2012 - Volume 6 Birthday Party (With The Neighbors Club) Completed
Older updates can be found on this list.
The Boku wa Tomodachi ga Sukunai series by Hirasaka Yomi
You can find the EPUB and MOBI version of the Volumes in the forums here.
Volume 6
Volume 7
The second round
Her answer
Pegasus fantasy
A shuraba in between my childhood friend and my fiance!?
The fall of Mikadzuki Yozora
Kobato Hasegawa
King of Riajuu
Volume 8
Universe
Archive
Project Staff
Translators
ACTIVE
INACTIVE
RETIRED
Editors
ACTIVE
INACTIVE
Series Overview