Accel World:Volume 1 Chapter 2
From Baka-Tsuki
Chapter 2
Yes, everything was a dream. Including yesterday's encounter in the local network.
The next day, Wednesday, Haruyuki went to school with his usual gloomy face, and thought that while entering his classroom.
In the déjà-vu lesson, Araya group's bullying mail came again. It was the first time that they had extorted lunch for two days in a row, what they wanted was same as yesterday, fried noodle buns and cream melon buns. How much do they like those anyway, he closed the mail while thinking that, and left his seat when the bell for lunch chimed.
Where his slow feet headed however was not the roof that Araya's group asked him to go, but the first floor in the school building, the lounge next to the student cafeteria.
Instead of the cheap long tables lined up in the cafeteria, the half circular lounge was filled with elegant white round tables. Beyond the large glass window for lighting, the autumn colors of the central courtyard's trees could be seen clearly, without a doubt this was the highest rank space in Umesato middle school.
Hence, there's an unwritten law that first years are not allowed to use it. The students around the tables, their ribbons and neckties were all blue (2nd year) or dark red (3rd year), there wasn't a single green.
Half of the upperclassmen held a cup of coffee or tea in one hand while chatting to each other, while the other half leaned back on high back chairs with eyes closed, not sleeping, but rather Full Diving on the school network.
Haruyuki first hid his large body behind a decorative plant in front of the lounge entrance, then looked around inside.
She couldn't be there, that thing yesterday was a dream, he more than half believed it - but.
"...She's there..."
He involuntarily swallowed a breath of air. In the deepest part of the lounge, at a table near the window, there was a striking group. Six students, a mix of 2nd and 3rd years. Looking closely, he could recognize them all. They were all current student council members, male or female in different orientations, and all of them were handsome.
The largest presence in that group was a female student with a blue ribbon flipping the pages of a hardcover book with melancholy. Her long hair, that came down to nearly her waist, was a deep black that was rare nowadays. Her legs that peeked out from her dark grey pleated skirt were covered with black stockings too. He was surprised that her open-collared shirt under her blazer was also glossy black. Without a doubt - she was Umesato middle school's most famous person, «Kuroyukihime».
From the lounge entrance to that far table, it should be less than 20 meters in a straight line. However, that distance felt like it was almost infinite to Haruyuki. Passing by upperclassman to get there is like an adventure that he couldn't possibly complete.
Turn around and go back. Then buy buns and juice from the school cafeteria and bring them to the roof for Araya's group. After that go hide in the 2nd school building toilet and play single player games in the local net to waste time.
- Shit. Damn. I will go.
Haruyuki ground his teeth, came out from behind the decorative plant's shade, and stepped into the lounge.
The stares from the upperclassmen in the surrounding tables were not just his paranoia, but contained actual criticism and displeasure. A new student might not know, but in the later half of 2nd term, all 1st years should know about the no entry rule.
However luckily, no one said anything to blame him. His shaking two legs earnestly carried his heavy body, passing between the tables, Haruyuki almost stopped breathing, and finally reached the deepest section controlled by the student council.
The first to raise her head, was a 2nd year who sat nearest to him. The female student's fluffy hair waved as she turned her head, she faced Haruyuki with a slightly questioning smile and kindly said.
"Oh... What is your business?"
'I have business here.' Being unable to say that, Haruyuki mumbled.
"Well... that is... err..."
At that time, the remaining four members all looked at Haruyuki. Their faces did not have any ill will, but he almost could no longer stand the displeased stares from the surrounding tables, when he was about to faint from all the tension, the last member finally raised her head from her book.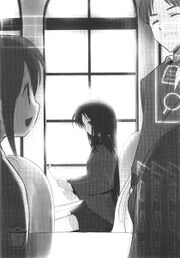 Kuroyukihime's face first seen at close range with naked eye, really was many times more beautiful than the avatar that he (thought he) saw yesterday. Under her cleanly split front hair, below her clear eyebrows, were eyes that even the iris looked black, shinning brightly. If her avatar can be compared to a black rose, then she would be a black narcissus. He did not know if such a thing existed or not.
He was prepared for that beautiful face to show a 'what?' expression to match his unsightly year-level.
However he was deeply surprised, Kuroyukihime's lightly colored lips showed a familiar smile and she said a short line.
"You came, boy."
She closed the hardcover book with a clap sound, while standing up right waved Haruyuki over, her view moved to the members at the table.
"He has business with me. Sorry, can you empty that space?"
The latter half was directed at the 3rd year male sitting next to her. The short hair, tall upperclassman stood up with an amazed expression and used his palm to show his chair to Haruyuki.
After mumbled thanks, Haruyuki shrunk his round body to the limit and sat down. The delicate chair creaked loudly, but Kuroyukihime did not seem to care about it, she took out a bundle of something small and long from her blazer's left pocket after searching in it.
It was a cable. The cord was shielded with thin silver lines, and both ends had a small plug. Her left hand raised the hair at her back, there was a Neuro Linker around her surprisingly small neck (Of course, the Linker was piano black), her right hand inserted one end of the plug into her Neuro Linker, and casually handed the other end to Haruyuki.
This time for sure, the students in the lounge waiting to see what would happen broke into a huge buzz. Screams of'It must be a lie' and 'No it can't be' could be heard from it.
Haruyuki was dumbfounded too. Sweat started pouring out of his face.
«Wired Direct Connect Communication».
Normally called Direct Connect, it was something that Kuroyukihime wanted to do with Haruyuki. Neuro Linkers normally use wireless communication with each other using the network in that area, under many levels of security. However, with Wired Direct Connect, 90% of the security wall became useless. For people with a certain level of Linker skill, they can peek into the other person's private memory, or install malicious programs.
That is to say normally, Direct Connect is only done with people one trusted the most - family, or lovers only. Saying it in another way, males and females who used Direct Connect in public places were very likely to be going out with each other. The cable length being a measure of intimacy is something of an existing custom without technical justification.
The XSB cable that Kuroyukihime was holding out right now was about 2 meters, however in this situation the length doesn't matter. While looking at the shining silver plug, Haruyuki somehow managed to make a sound to ask.
"...U, Umm, what do I do with..."
"It has no other use than to be plugged into your neck."
She instantly confirmed it. While Haruyuki was about to faint, his shaking fingers accepted the plug and inserted it into his Neuro Linker.
At that moment, a «Wired Connection» warning was displayed in front of his eyes. When that faded away, from the view of the lounge, only Kuroyukihime's shape freshly floated in front of him.
Without moving her lips that had a slight smile, a smooth voice sounded in Haruyuki's brain.
"Sorry to make you come all the way here, Arita Haruyuki-kun. Can you do thought talk?"
It's a skill where you talk through the Linker without moving your lips. Haruyuki nodded then replied.
"Yes. Umm... what is this really about? Is this an elaborate, well... prank or something?"
He thought she would be angry, Kuroyukihime shook her head slightly and gave a 'Hmm'.
"Well... in a certain sense it might just be that. Because I will send an application to your Neuro Linker. If you accept that, then your current reality will be completely destroyed, and rebuilt in a shape you can't imagine."
"...Re, Reality... destroyed...?"
Haruyuki repeated in blank amazement.
He no longer saw the students around the tables full of curiosity or heard their noisy comments. Only Kuroyukihime's words repeated in his mind.
The deep black upperclassman looked at Haruyuki with another smile, and raising her right hand, her supple white fingers made something slide.
Pon, a beep sounded.
[Execute BB2039.exe? YES/NO] A holo dialogue appeared.
This should be a familiar system display, but he thought this window seemed to have its own intention that forced him to make a decision.
With common sense, executing an unknown application sent by a stranger over Direct Connect would be indiscretion. He should pull out the cable right now. However, Haruyuki for some reason could not do that. In exchange, he looked down at his body squeezed into the chair.
- Reality. My reality.
Stolid body. Lackluster appearance. Repeatedly being bullied and escaping to the net. And more than anything, the self that did not change this situation. Being like this is fine, since nothing will change, this self that gave up.
Haruyuki moved his view, and looked into Kuroyukihime's dark eyes.
In half a second, he raised his right hand, and thrust his finger into the YES button. Her white face held a slightly surprised expression, slightly satisfied, he relaxed his chest.
"That's my wish. This reality... if it was destroyed."
He whispered that, at the same time.
In his full view, a huge flame erupted.
He instinctively stiffened his body as it seemed as if the wild fire might sweep him up, but its flow eventually concentrated in front of his body, transforming into a logo. Its design sense was certainly not new. It was a harshness that reminded him of the late last century, of a certain popular VS fighting game.
The words that appeared was - «BRAIN BURST».
This, is how Haruyuki met the single program that would revolutionize him and his recognized reality.

The installation continued for about 30 seconds. It was a huge application even for the Neuro Linker.
The indicator bar under the burning title logo finally reaching 100%, Haruyuki swallowed his breath and watched. Reality - will be destroyed, was what Kuroyukihime said. How exactly is that shown?
The indicator disappeared along with the logo as if it was being burnt. The remaining orange fire displayed in small English font the message «Welcome to the Accelerated World», which was soon split like fireworks. What does it mean - Accelerated World?
Haruyuki held his breath for about 10 seconds in anticipation.
However, his own body or the surrounding view, nothing felt like it was going to change. As usual, under his uniform, he is wet with sweat, and the displeased stares from the surrounding tables seemed to increase.
Letting out a short yet lengthy breath, Haruyuki looked questioningly at Kuroyukihime.
"Umm... This «Brain Burst» program, what is..."
Asking with thought talk, the black clothed upperclassman, while maintaining her smile, said something different from his question.
"It installed without any problems. I was confident that you had enough aptitude for it."
"Aptitude? For this program?"
"Yes. «Brain Burst» cannot be installed in someone without a high level brain neurological response rate. For example, like someone that can make stupidly huge scores in virtual games. When you saw the illusion flames, the program was checking your brain's response. If there's not enough aptitude, you won't even see the title logo. However... I was a little bit surprised. For me, it took about two minutes of doubt whether to accept this strange program. This made all the speech I prepared to convince you useless."
"Ah... sorry. But, that, nothing... seems to be happening. It's not a resident application, but a select execution type?"
"Well, don't be in such a hurry. From now you will need a little mental preparedness. I will explain the basic functions later. Why, we have plenty of time."
Haruyuki took a quick glance at the continuous time displayed in his view's lower right corner. Half of lunch time had already passed. He didn't think they had plenty of time left.
He painfully felt the curiosity and disgust in the surrounding atmosphere, and leaned back. The chair under his body squeaked.
That was a familiar sound, but it felt like even the chair was laughing at his ugly and comical self, he bit his lip. There's no way he would love this reality. If it can be changed, no matter what kind of change it was, he would accept it.
"...I am already mentally prepared. Please teach me about this program..."
As he said up to that point.
From the lounge entrance behind Haruyuki, the voice that he didn't want to hear the most could be heard.
"You dickwad, Pi... Arita! You can't escape!!"
Haruyuki cowered in reaction, his waist lifted from the chair. When he turned around, he saw a red-faced Araya standing there, he wasn't supposed to leave the roof while at lunch time.
As Haruyuki's expression changed from surprise to fear, Araya's face also changed from rage to doubt. After Haruyuki stood up, Kuroyukihime's delicate shape and the cable that connected their Linkers, which were hidden behind his huge body earlier were shown.
While frozen, Haruyuki's sensitive feelings detected that other than the council members, the rest of the students around him, their atmosphere were subtly changing. What the relationship between the same green necktie but big build Araya and the small but large width Haruyuki's was, they probably instantly realized. However the students didn't show displeasure toward Araya, but a 'Ah, so it really is' kind of understanding.
Stop - Stop this right now.
Haruyuki desperately wished. He absolutely did not want Kuroyukihime to know that he was being bullied or such. 'After I finish here, I will buy buns and bring them to the roof so please wait there quietly', he wanted to tell him that, so he faced Araya and forced a smile.
Araya who saw that smile, his further outrage made his face turn purple. 'Pig', his lips moved without sound, Haruyuki saw in horror. The meaning of his smile while in Direct Connect with the school's most famous person, was totally misunderstood by Araya.
With his eyes lifted up shinning, Araya silently dove into the hedge that separated the cafeteria and the lounge. With the heel of his indoor shoes making crushing sounds, he approached in a direct line. Behind him, his underlings A and B followed with somewhat tensed faces.
It's hopeless, while thinking that Haruyuki took a step back.
Araya is unbelievably tall for being 13 years old, the same age as him. He might be doing karate or something of the like, as he's built up quite a lot of muscle. He wore a short blazer over a long lavender shirt, and big pants. His white-tinged golden dyed hair stood up like a mountain of swords, his small eyebrows and piercings on both ears, his colored up-angle eyes all spelt danger.
Umesato middle school is a private future preparation school, but since this is a low fertility era, just about no middle schools require an entrance exam. So a fighting type like Araya came here thinking "Easy to control".
With that handicap, Haruyuki was controlled on his first day entering school. He wimpishly looked up at the Araya who stood in front, looking down at him.
"Don't underestimate me."
After the line came out of Araya's twisted lips, Haruyuki was about to mouth a servile apology, but before that.
From behind him, Kuroyukihime's real voice with a cool rich inflection was heard.
"You are Araya-kun right?"
Araya who heard that was surprised for an instant, then had a flattering smile. Even this guy is happy that his name is remembered by «That Kuroyukihime».
However, what she said not only shocked Araya, but Haruyuki as well.
"I heard about you from Arita-kun. About whether or not you were mistakenly sent from the zoo to the middle school."
Araya's jaw dropped and started trembling, Haruyuki looked on while dumbfounded.
"Wh... Wh... What..."
At the same time that Araya's mouth starting to move, Haruyuki wanted to shout.
Wh - Why did you say that!
But that thought did not become sound, Araya released a tremendous roar.
"Why you, I am going to kill you, pig!!"
Haruyuki shrunk from fear, he saw Araya's right fist tighten and held high.
At the same time, in his brain, a piercing voice commanded Haruyuki.
"Shout now! «Burst Link»!!"
Haruyuki did not know if he used his real voice or thought voice to say that short command. However, he felt for sure that every corner of his body reverberated with that sound.

Burst Link!!

Bashiiiii!! With that impact sound, the world wavered.
The colors were drained, replaced by a transparent blue that started to spread out. The surrounding lounge, the staring students, and Araya in front of him as well, all became a monotonous blue.
Everything stopped at that moment.
Araya's fist that should have hit him flying in a second, was frozen a few centimeters in front of him, he watched while dumbfounded.
"U... uwaa!!"
He involuntarily shouted, and jumped back a step.
The result of that action, showed him something else that was hard to believe.
His own back. He was the same blue color as Araya, his round back was unnaturally stopped in a comical cowering position. It looked like only his soul left his physical body.
Then, what happened to him now!? He looked down in surprise, there he found the familiar looking pink pig. Without a doubt, it's the avatar he used in the local net.
No longer understanding anything, Haruyuki turned around shakily.
In front of his eyes, was another strange sight.
On the lounge chair, Kuroyukihime sat with elegance, her back straight and lap tightly closed. However that body too, including the cable extending from her neck, were all transparent blue like a crystal.
And next to her body, in a black dress with a parasol, her avatar with the swallowtail butterfly wings stood with a mysterious smile.
"Wh... What is this!?"
Haruyuki frightfully shouted.
"Full Dive!? Or... astral projection!?"
"Fufu, neither of those."
With a happy tone, Kuroyukihime's avatar told him.
"We are now under «Brain Burst» program's function. «Accelerated»."
"Ac... Accelerate...?"
"Yes. The surrounding looks stopped but that's not true. Our consciousness is moving at ultra fast speed."
Kuroyukihime moved a few steps with the silver balls at her cuff's rim shining, and stopped beside the blue frozen reality of Haruyuki and Araya. The tip of her parasol pointed at Araya's fist in the path of a right straight punch.
"This fist too, you cannot notice it but it is even now moving very slowly... like the short hand of a clock. If we continue to wait, it will eventually pass this 80cm or so and we will see it make a dent in your face."
"That's no joke. No that's not it... wait a minute please."
Haruyuki held his head with his two pig hands, desperately trying to sort the information.
"Th, this means... our souls did not leave our body right? Does that mean our thoughts are from our original heads?"
"You catch on fast. That's exactly it."
"But, isn't that strange! If only thoughts and feelings got sped up, this... astral projection like movement, looking at your own back, that means I shouldn't be able to talk to senpai[1]!"
"Hmm, a good question, Haruyuki-kun."
Kuroyukihime nodded her head like a teacher, then with her length-wise rolled hair waving, moved to beside the table.
"The blue world we are seeing is the real world in real time, but it's not seen with light refracting in our eyes. Take a look under this table."
"O, ok..."
Haruyuki crouched his pig body that's smaller than his real body, and peeked under the blue table.
"Ah, huh?"
Strange. The table is made from wood, its surface has many cross-grains running length-wise. However the underside is smooth like plastic, without any texture.
"What is this... Looks like polygons...?"
When he raised his face, he saw Kuroyukihime lightly nod a few times.
"Exactly. This blue world is made up of pictures from many Social Cameras in the lounge, the pictures are made into 3D scene and sent to your brain through the Neuro Linker. The areas in the cameras' dead zones are filled in with conjecture. So, peeking under this girl's skirt will be useless."
The Social Camera's actual name is Social Security Surveillance Camera, for maintaining security, they are placed all over Japan, it means a government video surveillance network. Even a private middle school cannot reject camera placement, that data is protected with strong national level security walls, a normal citizen absolutely can not peek into it - that was what was said, but...
While thinking about such a theory, Haruyuki in reaction followed the female student council member's leg which was extended under the table, he confirmed that the graceful line ended at her skirt's edge.
After he hastily stood up, he saw Kuroyukihime giving him a sharp glance.
"Don't look at my legs. They are within the camera's view."
"I... won't look."
While taking an effort to steady his gaze, Haruyuki shook his head.
"W, well, after seeing this, I somewhat understand the theory. This is the real time world made into 3D... we use avatars as substitute bodies to see and talk through direct connection right?"
"That's right. Now, for convenience you are using your school's local net avatar."
"If possible, I would prefer another."
After whispering, he gave a huge sigh. While shaking his pig head to sort his thoughts, he looked at Kuroyukihime's avatar again.
"But... this is just half way. What I want to know is from here on. …«Accelerate», what exactly is it? I have never heard of Neuro Linker having this kind of time stop like function!"
"Of course, the Neuro Linker's secret accelerate function can only be drawn out with the «Brain Burst» program, or people with that program."
After Kuroyukihime whispered that, she raised her left hand, and poked the XL size Neuro Linker around the reality frozen Haruyuki's neck.
"Haruyuki-kun, do you know the operating principle of the Neuro Linker?"
Seeing the slender finger touching «his» neck, Haruyuki felt a thump for no reason and nodded.
"Y, yes... just perfunctory information. Using quantum level connection with brain cells, picture, sound and sensation can be sent, that means canceling reality's five senses..."
"That's right. That means its principle is basically different from 2020s headgear type VR machine, or 30s implant type. Quantum connection is not a biological mechanism. That is, it won't put any burden on the brain cells, and you can do unreasonable things... someone realized that."
"Unreasonable... that means?"
To Haruyuki's question, Kuroyukihime returned a somewhat different question.
"Have you played with a 20s era PC?"
"Y, yeah, I did. I have one at home too."
"Then, you know what the PC's standard operating frequency is called right?"
"Base Clock... ?"
Kuroyukihime nodded with satisfaction.
"Yes... the oscillator on the motherboard sends out a signal, with a set multiplier moving the CPU at an overclocked speed. And then the human brain, our consciousness operates with the same mechanism."
"What...!?"
Haruyuki's eyes became round, and his pig nose breath out rapidly.
"No, no way. Where is our oscillator?"
"Here."
Kuroyukihime instantly replied, she hugged the reality blue Haruyuki from the front, with roguish up-turn eyes, her left hand poked the center of the back.
"Wh... wh, what are you doing?"
"Right now, your clock went up a little. You already know right... the heart! The heart is not just a pump for sending out blood. This beat determines the thinking speed, it's a standard clock generator."
Taking a breath, Haruyuki touched his pig body's chest. Kuroyukihime, like she was teasing him, still continued to touch around his heart area.
"Even if the body is in a stopped state, depending on the situation the heart beat will increase... like a racing driver. Why? That is thought - situational awareness, and judgement «Acceleration» is necessary. Or it is like two lovers touching each other. For every minute and second to be densely experienced, «Acceleration»."
Kuroyukihime's finger that was around the reality Haruyuki's chest, slowly moved up and stopped at his neck.
"The heart with a thump beat, creates a quantum pulse signal that travels through the central nerve to the brain, that is, the thought. If - that signal is overwritten at the neck by the Neuro Linker, and overclocked, what would happen?"
With a prickle of horror at his back, Haruyuki felt it.
"Thought will... accelerate?"
"That's right, for the Neuro Linker that is possible. Without causing any harm to the physical body or brain cells. Right now at this instant, our Neuro Linkers multiply the single heart beat clock, and send it to the brain with wireless quantum signal. Actually this rate, reaches 1000 times!"
"1000... time... s."
Haruyuki could not do anything else other than repeat in blank amazement what he had been told. His paralyzed consciousness was shocked by Kuroyukihime's flowing voice.
"Thought sped up by 1000 times. That means, 1 second in reality equates to 1000 seconds, dividing that up, you experience 16 minutes and 40 seconds of time."
This is way beyond an F1 racer's speed. It's no longer technology anymore, it's equal to «Time Stop Magic».
However, what is basically possible with this wonderful phenomenon, while Haruyuki was thinking about that, Kuroyukihime looked like she noticed something and whispered 'Oops'.
"...?"
"Ah, sorry. I was engrossed in explanation, so we used up a bit too much time. I completely forgot, but the real you is going to be knocked flying soon."
"Arg..."
Haruyuki hurriedly moved his feet, heading to the front side of his blue frozen self.
For sure, while they talked for about 5 minutes (about 0.3 seconds in reality), Araya's fist had traveled quite a bit. Less than 50cm until it reaches Haruyuki's round cheek.
Araya's face, it was hard to believe it was made up from pictures of Social Cameras hidden in the ceiling, his violent excitement twisted his lips.
What is he so happy about. - No, he should be happy. His fist is heading to me, who was futilely standing there with a hollow expression, exactly what they called a garbage character.
While the murky thought passed in his mind, he turned toward Kuroyukihime.
"...Umm, this «Acceleration», how long will it continue?"
"In theory, it's unlimited. However the «Brain Burst» program has a set limit, your maximum accelerated experience is 30 minutes, that is about 1.8 second in real time."
At Kuroyukihime's cool reply, Haruyuki's pink pig's round eyes widened. If his real self is frozen like that for around 2 seconds, Araya's punch will surely move pass the remaining distance, and gradually sink into his nose.
"...I'll be beaten up!"
Thinking about his body flying slowly, Haruyuki shouted. However Kuroyukihime lightly laughed and added.
"Ah, don't worry. Of course, you can stop the accelerated state at any time."
"O, oh... is that so. Then, I can return to reality and avoid this punch too..."
"Easily. Fufu, this is «Acceleration»'s easiest to understand use. For situations where a reaction speed that is impossible for your physical body is needed, if you assess and consider it, then you can calmly deal with it after cancelling the accelerated state."
As she said, he had not been able to avoid the many beatings till now, due to fear he had not been able to see the path of Araya's punch and its target, but now inside «Acceleration» he can easily understand it.
After cancelling acceleration, moving left just 15cm would be fine. He swallowed his saliva while carving that into his head, then looked to Kuroyukihime to find the cancel command.
However, the black beauty said something outrageous before he could ask.
"However, don't avoid it. Be daringly knocked out here, Haruyuki-kun."
"Kn..."
While his pig nose trembled, Haruyuki shouted.
"N, no way! It will hurt."
"Which?"
"What...? Wh, which means..."
"I want to ask, is it your body or mind that will be hurt?"
The smile disappeared from Kuroyukihime's avatar. Without waiting for Haruyuki's reply, she appeared in front of him with her black high heels clicking.
Kuroyukihime bent her slender body that was about 50cm taller than Haruyuki's pig body, and peeked at his eyes from close range. He held his breath and stood still.
"This is not the first time you have been beaten up by the student named Araya."
"Y... yes."
He definitely did not want her to know that he was bullied, but why did he nod.
"Then, this student had not been punished thus far, there should be two reasons. The first of course is you accepting it meekly. And the other one is, Araya's violence and blackmail area is strangely outside of the Social Camera's view."
Certainly, the places where he was directly bullied was normally the roof's air exhaust shadow, behind the school and other places where students don't normally go to. However, that was not for avoiding people eyes, but to avoid cameras.
While Kuroyukihime showed a difficult expression, she stood up straight.
"...Unfortunately, this school's 2nd and 3rd years have the same kind of people like this guy. They have some kind of network, that share things like illegal applications that warn them of Social Camera zones. They will never show their tail in a camera zone... even this new guy should have been strictly ordered about that."
Kuroyukihime's ice like stare looked at the blue Araya's face once, then her strangely calm voice continued.
"But, he's still a child. He lost control of himself from my earlier provocation, and used violence in this area full of cameras. Listen, this is your chance, Haruyuki-kun. It's easy to avoid this punch, but if you do that then Araya will leave us, and disappear from this place. The chance to give him the punishment he deserves, it will be long gone."
- And then, Araya will again make him hurt. That revenge, which will be more than the current half play, is something he can easily imagine. While his back shivered with a prickle, Haruyuki looked at his real self, and Araya's fist nearing his face.
The bony right hand was sharp with rock-like points, getting hit with that will be painful enough to make him cry. This half year, he has experienced this pain more than he wanted. However -.
What will really bleed is not his physical body, but his heart. It's his pride that was torn to shreds.
"...Umm."
With hesitation, Haruyuki asked Kuroyukihime.
"If I use «Brain Burst» well, can I win against this guy in fights?"
Her beautiful face without any expression stared straight at Haruyuki.
"- You would win. You now have power way beyond non-accelerated people, as a «Burst Linker». Without being hit a single time, you can hit as much as you like, if that is your wish."
My wish. There's no way I won't wish for that.
Elegantly avoiding Araya's karate punches, making his looks more ugly than a pig. Crushing his nose, knocking out all of his front teeth, while he cries, begging on his knees pulling out his boastful golden hair.
Creek, while grinding his big teeth, he let out a sigh, Haruyuki tells Kuroyukihime in a trembling voice,
"...No, I will not do that. I will quietly get hit... since this is a rare chance."
"...Fu."
Kuroyukihime, with a satisfied smile, slowly nodded.
"Wise decision. Well, this will be the least damage and greatest effect. After «Acceleration» is cancelled, jump straight back to your right. Don't forget to turn your face to the right to parry the fist."
"O... ok."
Haruyuki moved right behind his real self to check Araya's punch path. For sure, if he jumped while turning his face, even karate's force will mostly be cancelled.
He moved his view to check where he will be jumping to. The left side has tables, the right side behind has a large empty space, there are no obstacles all the way to the window looking out the central courtyard. Except for one person that is.
"Ah, no... this is no good. If I jump from here to there, I will crash into senpai's body."
The standing Haruyuki was only about one meter from the real Kuroyukihime who was sitting in a chair. If his huge body hit her, he won't know what would happen to her slender body.
However, the black dressed avatar just lightly shrugged.
"It doesn't matter, that way will be more effective. Don't worry, I'll dodge so I won't be hurt."
"...O, ok..."
That's true, if known before hand that is possible. He forced a nod.
"We will soon be out of time. Hurry and stand in your real self."
Pon, he was pushed from behind, Haruyuki took a step forward, his pig avatar overlapped his blue real self. Behind him Kuroyukihime also seemed to have sat down, her voice coming from a lower position.
"Ok, I will teach you the acceleration cancel command. Do your best - «Burst Out» !"

Burst Out!

Haruyuki took a deep breath and shouted.
Kiiiin, with a jet engine like sound, something approaching from far away broke the surrounding silence. The blue world slowly returned to its original color.
In his left side view, the stopped Araya's fist moved bit by bit. From as slow as a snail, it gradually sped up, heading to Haruyuki's cheek.
Haruyuki did as he was told, while jumping to his right side behind with both legs, desperately turned his head to the right. The fiercely approaching fist touched his skin, and sunk in a bit -.
And then, the world returned to normal.
Waa, after he heard the noise from the surrounding, Haruyuki's left cheek felt the hit from the fist. He felt that the inside of his cheek hit his teeth, and his lips were torn. There was some bleeding, however compared to the many karate punches he ate before, this was definitely about half the pain.
However, at the same time Haruyuki's huge body showily flew in the air like in the movies.
Please dodge well! While praying, his back crashed into the chair behind him. A nice smell and a feeling of soft hair reached him.
The chair fell with a Gataan sound, and right after, Gatsun!! An ominous sound.
Haruyuki's breath was knocked out of him when he fell on his back to the floor, while gasping for air, he desperately turned his head, trying to confirm the state of Kuroyukihime who was supposed to avoid the clash.
What his two wide eyes captured was, head reclining on the window, hands and legs spread out like a broken doll, a delicate shape with eyes closed.
Under the messed up front hair, on the almost see through white cheek, a line of blood flowed.
"Ah... ah."
While swallowing a scream, Haruyuki tried to stand up. But, before that -.
"Don't move!!"
From the still Direct Connect Linker, Kuroyukihime's thought voice hit Haruyuki's consciousness. Reacting to that, his body froze while in the fallen state and replied.
"Bu, but... Blood!!"
"No worries, it's just a small cut. I told you, we are aiming for the greatest effect. After this, Araya won't appear in front of you. For a second time."
After being told, Haruyuki moved only his view from left to right side.
Araya whose right fist was still held out straight, vacantly looked down at Haruyuki and Kuroyukihime. His face slowly lost blood, his thin lips trembled two or three times with a twitch.
In the silence that covered the lounge -.
"...Kyaaaaaa!!"
The surround table's female students' tremendous scream echoed.

Araya and his underlings A and B didn't resist when the male student council members captured them. The three people with slightly green faces and shaking legs were taken away by flustered teachers who arrived. Kuroyukihime was carried by the female student council members and headed straight to the hospital.
Haruyuki himself was lightly treated in the school infirmary, while the school doctor put a disinfection patch on him, the words that Kuroyukihime said to him right before pulling out the Direct Connect cable, still echo deep inside his ears.
"- Oops, almost forgot to tell you. Until you come to school tomorrow, absolutely do not remove your Neuro Linker. However, do not spend a single second in Global Connect. Listen, absolutely. Promise me."
He could not figure out what her true intention was for that directive. While he spent the afternoon two hours in the infirmary, a strange dissociated feeling covered his whole body. The many things that happened to him in the two days between yesterday and today, he has no idea how to sort and absorb them.
However at the very least, he no longer has to worry about having his shoes missing from the shoe rack, or finding strange things in his shoes. He mechanically changed his indoor shoes to sneakers, while leaving the school building, he did as he was told and cut the net connection from the Neuro Linker.
What is the meaning for that, while thinking about that again he walk toward the front entrance of the school, at that moment.
"Haru."
The small voice reached his ears and Haruyuki abruptly stopped his legs.
Looking around, he noticed a small shape in the shadow of the school building that was dyed by the evening sun. While noticing his face tense up, he called that person's name.
"...Chiyu."
He did not forget, the incident from yesterday that he forcibly pushed out of his consciousness, instantly replayed. 'Uwa, what should I do, no, I should apologize first, that's the only thing I can do', while he was panicking, Kurashima Chiyuri who was showing a difficult face stepped on the synthetic soft pavement of the school yard and approached.
"Ah... that is... yesterday's, err."
"Haru, I heard about what happened at lunch time."
Chiyuri said so, interrupting Haruyuki's disoriented words.
"What? Lunch... Ah, Ahh."
"You were hit by them, and flew really far... then, that injury? Are you ok?"
Chiyuri's face with wrinkled large eyebrows approached him, Haruyuki's left hand went to cover the patch near his mouth. 'No way, the flashy flight was done by myself', but he can't say that.
"Ye... Yeah, I am fine. It's just a little cut. I am not hurt anywhere else."
"...I see, that's good."
With her face still tense, but now with a slight smile, Chiyuri took a quick look at their surroundings. After the incident at lunch time, Haruyuki became the subject of talks at school, the students returning home from school stared at him without refrain.
"Then, let's go home together once in a while."
Chiyuri said with a hard sound, and started walking without waiting for him.
'Once in a while she said, we haven't done that once since entering middle school', Haruyuki thought, but if he said no and ran away, it will be a repeat of yesterday's foolish actions. That's right, no matter what happens he has to at least apologize for yesterday's incident.
Chiyuri was walking in large steps that did not fit her height, Haruyuki had to run a bit to catch up to her, he went beside her, keeping a strange distance. Like that, they left the school entrance and walked onto the quiet sidewalk where only cars with in-wheel motors could be heard.
Normally, after he left school, he would automatically put the surrounding people, bikes, and cars in his virtual view as color symbols while walking with his eyes closed, but now that he is disconnected from Global Net, he can not use navigation. Why would Kuroyukihime direct him to do that, while he was again thinking about that, Chiyuri who was on his right side saying that name nearly made him jump.
"Is it true that you Direct Connected with 2nd year's Kuroyukihime-san?"
"What!? Ho, how -"
'How did you know', he was going to say, but he realized that it would be like that. Compared to Araya's punch, that one incident would leave a bigger impact on the students.
"...Yeah, well..."
Without looking at Haruyuki's nod, Chiyuri's small lips became pointed and walked even faster. That expression, was her showing the highest rank of displeasure, he knew that from being around her for so long. Why would she be like that? This time too he answered himself after thinking a bit. The idiot who knocked her handmade lunch down onto the hall, without apologizing went and did something strange with another girl, even if it wasn't Chiyuri they would certainly be mad.
"Bu, but, there wasn't any strange meaning. That is, I was just copying her application."
It's October, his back was still filled with unpleasant sweat while he tried to explain. However Chiyuri's expression did not become peaceful, it seems no matter what, he has to apologize about the sandwich incident first! After deciding that, he earnestly tried to arrange words in his brain.
"In, instead of that, that is... yesterday's..."
Just as he finally said till there, a well carrying voice from the front made him swallow what he was going to say next.
"Hey, Haru, Chii-chan! What a coincidence, going home now?"
Chiyuri's legs abruptly stopped, and Haruyuki raised his face. On top of the seventh circular line escalator, a boy of the same age smiled with a raised hand.
His uniform was a blue-grey stand collar that's different from Umesato. His right hand held an old style black leather student bag, from his shoulder hung a shinai[2] case that's used in kendo[3]. Slightly long hair with a clean feeling was split in the middle, the face below it has a fresh form that fit him more than anyone else, a refreshingly handsome man.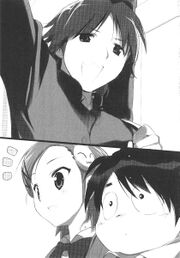 "Ah... Ta-kun."
After blinking a few times, Chiyuri smiled.
She was so displeased till now. While thinking that, for the 3rd time in a short period of time, 'Ah, that's right', Haruyuki whispered in his heart. - While walking with the annoying guy who dropped her sandwich, she met her boyfriend by accident.
Haruyuki and Chiyuri's childhood friend, Mayuzumi Takumu, with his shinai case swinging, approached with a short run, and faced Haruyuki with a cheerful smile.
"Hey, Haru! Long time no see."
"Hey, Taku. Long time... has it been?"
Haruyuki said while looking at Takumu's face that's 10cm higher than his.
"That's right, I haven't seen the real you in two weeks. You don't go to mansion events."
"I went to the athletic meet."
Haruyuki replied with a wrinkled face, Takumu made a 'just like usual huh' smile.
The three of them were born in the same year in the complex high-rise mansion built in North Kouenji. However, just that reason won't get him friendly with a boy who had everything he did not have.
Ironically, Takumu was so good at studying that he entered a famous all grade escalator school in Shinjuku, thus Haruyuki can have a carefree relationship with him. Because Takumu didn't have to see him once in a while being a target of bully in the local elementary school.
For Chiyuri who went to the same elementary school as him, he told (that is, begged) her not to tell Takumu about him being bullied. If he knew, then Takumu will save Haruyuki, he would call out the brats and beat them with his shinai.
However even if that stops the bullying, Haruyuki felt that he would then no longer be able to be friends with Takumu.
"Now that you mention it..."
While the three were walking, Haruyuki started a conversation. It was something he hardly did at school.
"I saw the previous city tournament video on the net. Taku is amazing, champion even as a 1st year student."
"Luck, pure luck."
While scratching his head, Takumu made a ticklish like smile.
"The difficult guy disappeared in the semifinal. Also, Chii-chan came to cheer."
"Eh, m, me!?"
On the other side of Takumu, Chiyuri yelled with wide eyes.
"Why me, not really, I was just watching in a corner..."
"Hahaha, what are you saying. 'Knock him out', didn't you shout loudly?"
Takumu laughed with a pleasant sound.
"Above that, you won't give me lunch if I lost, you said. That was with a serious look right, Chii-chan."
"Ah gee, I hear nothing! Nothing."
While watching Chiyuri cover her ears and increase her walking speed, Haruyuki poked Takumu's body with his right elbow.
"I see, that is the reason why you were so motivated in the final round."
"Well, yeah, hahaha."
While laughing with Takumu -.
Certainly, this is great, Haruyuki thought.
His choice two years ago was not a mistake. Right now, they can talk like they did before.
He did not want this relationship to break apart.
At that time, like a counter, Takumu lightly said.
"Haru too, you ate Chii-chan's handmade lunch yesterday right?"
"Eh, no, that, that is."
While looking at Chiyuri's suddenly tense back, Haruyuki went into a light panic. 'Oh no, I haven't apologize yet, should I apologize now, or with email when I return home -'.
No, wait a minute.
How did Takumu know about that.
Haruyuki's legs became tangle, when he was about to fall, Takumu supported him while saying 'Oops'. However, without noticing that, his brain was getting hot due to repeated thinking.
That sandwich was made by Chiyuri because she knew that his lunch money was used by Araya's group. She was not good with cooking so why, he thought, it could not be from Takumu's advice right?
Is that was the case, then Chiyuri consulted with Takumu. That Haruyuki was being bullied. Otherwise, he would not have said that.
The inside of his head became white hot, Haruyuki unconsciously shook off Takumu's hand that was holding his right elbow.
"H, hey, Haru - ?"
To Takumu's questioning voice, Haruyuki could not face him. His wandering gaze met the frozen like expression in Chiyuri's eyes. Her lips moved, trying to say something, but Haruyuki shouted before she could.
"Ah... Sorry, there is a show I want to see! I will return first, Taku, see you again!"
He ran out like that. His legs got twisted and was going to fall many times, but Haruyuki ran earnestly.
Those two would probably consult again. On how to save Haruyuki.
Even thinking about their conversation topic made him feel like his innards were being cut up. Even though a miracle-like happening made Araya disappear, if Takumu already knew about it, it would be too much even for irony.
Until he passed his mansion's entrance, and jumped in the elevator, he did not stop running even once.

That night, the dream he had was without a doubt the worst that he ever remembered having.
The elementary school brats, Araya and his underlings A and B, and other outlaw students whose names he doesn't know, took turns to appear and hurt him.
A little distance away, Chiyuri and Takumu watched while holding hands. More than the pain in his full body, the pitying expression on their faces is what Haruyuki could not endure.
As the dream progressed, more viewers appeared. His mother appeared beside them, his father that left home long ago also appeared, along with the people living in the mansion and his classmates, the crowd of people looked down at him.
Their faces no longer had a pitying expression, but a scornful laughter. Many people pointed at the ugly and miserable Haruyuki and laughed.
Stop. I don't want to be here anymore.
While thinking that, he looked up at the dark sky far away, there was a shadow of someone there. With wings darker than night spread out, flying lightly like birds of a feather.
I want to go there too. Higher. Further.
I want to fly.
To beyond.
"- Is that your wish?"
References
↑

upperclassman, I will use this for speeches

↑

bamboo sword for practice

↑

sword fighting club/event