Accel World:Volume 10 Chapter 1
From Baka-Tsuki
[edit]
Chapter 1 - Sound of Water from a Distant Day
[edit]
Part 1
YOU WIN!
Arita Haruyuki held his breath as the blazing words came floating up in the center of his vision followed by an increase in his Burst Points.
A ten point reward is awarded in a two versus two tag team duel with parties that have equal total level values. It was soothing regardless how many times the metallic sound echoed as the points increased. From 298— it was now 308.
After a while, a system message that was not seen before popped up. [YOU CAN UP TO LEVEL 2] It says, «You can raise your level to 2».
"Ye......Yeah......!"
Haruyuki suddenly guts posed, raising the solid arm of his silver avatar «Silver Crow». Words of greetings from the level 2 and 3 opponent team combination caught his attention.
"Grats, man!"
"Think on where you'll use your level up bonus."
The flustered Haruyuki lowered his head as the two burst out. Greetings and blessings from the Gallery slowly faded as they left the surrounding building rooftops.
Giving a nod, the only one left was his blue, reinforced heavy armor exterior, piercing model, Level 4 tag partner «Cyan Pile».
"Congratulations Haru. You did well holding out for two weeks."
"......Thank you, Taku."
Haruyuki wanted to properly convey the overflowing grateful feelings in his heart, but he did not know what words to say. Repeating the same phrase he said with a greater voice was the least thing he could do.
"Thank you, really."
In fact, without the help of Cyan Pile, Mayuzumi Takumu, nothing would have significantly changed after two weeks.
From corresponding strategy on battle field attributes, armor structures and colors of duel avatar to local rules, manners and active duel's time and location in a specific area were given. He didn't even just stop from sharing information related about «Brain Burst», he even helped out on school homework and ports in the real world.
Without asking for Takumu's kind help, Haruyuki— Silver Crow, would not be able to save 300 points in a short period of time even if he is Accel World's first ever «Full Flight Duel Avatar» in seven years. No, on the contrary, it is even possible to have lost the points.
Let alone dueling, Haruyuki's «Burst Linker Parent», the one who should be providing him guidance, can barely even connect to the net in a day because of being hospitalized. Haruyuki insisted on not to full dive and prioritize rest even without having the Health Care UnitHCU observe for 24 hours but there was not a day where she did not complain about it whenever he called.
Anyway, having that kind of situation, it was impossible seeking guidance and meeting his «Parent» Kuroyukihime— «Black King» Black Lotus in Accel World. Until she is moved on to the general ward next week, she will not be able to duel for the time being. As a result, Takumu retired from being a member of the blue legion «Leonids» and transferred to the black legion «Nega Nebulas», becoming his temporary instructor which he cannot really thank him enough for.......
Hearing Haruyuki's feelings in his small words, the smile returned from behind Takumu's face mask with a quiet voice.
"—Still, it is not enough to wash away all the guilt that I have."
"......Taku......"
Haruyuki faltered and averted his eyes as Takumu looked up at the moon above the «Old Castle» stage.
"Moreover Haru, in the first place the master...... if the black king was not attacked by unacceptable means this could not have happened. Therefore, it is my obligation and responsibility to help you in place of the king."
—Indeed, on a day of this year's summer break, Takumu's means of challenging Kuroyukihime over the Umesato Middle School Network cannot possibly be said as acceptable. The trick used by the Neuro-Linker «Back Door Program» was the connection between his two childhood friend and using Kurashima Chiyuri as a stepladder to continually «Intrude».
Using the hospital she had been transported in as a stage, Haruyuki who noticed the trick fought Takumu to protect Kuroyukihime who was in a coma because of a serious injury. Haruyuki's Aviation model avatar potential woke up as Takumu breaks him in a fierce battle to their limits where they throw their feelings at each other with all might and in the end, stopped and forgave him for deceiving them.
In the long run, Kuroyukihime was finally free from Takumu who was not even able to take away one point. Although Takumu's direct attack was indirectly related to the reason why Kuroyukihime was hospitalized—
"......I-It's nothing, Taku!"
Haruyuki shouted while shaking both of his hand desperately.
"Everything's because of me being foolish that's why Kuroyukihime-senpai was badly injured! B-Besides, think about it, if you did not keep on intruding on senpai, say...... that person who shut herself in the local network will not try to make her «Child» that would in turn make me into a Burst Linker. In other words, me fighting in Accel World now was somehow thanks to you......"
Though it was too forced to be a logical argument to say the following, Takumu shrugged his shoulder as he looked up at the pale moon.
"......Ha-Haha. You still have not changed, Haru. Just like from elementary school that is......"
Eh? He tilted his head as the quiet whispers reached his ears.
"Then, I'll take that as compliment......is that okay?"
"Haha, of course."
Takumu's shoulder shook as he gave out a short laugh, turning his back completely at that point. Haruyuki murmured 'Thanks' as he saw the same broad back that he had in the real world and confirmed the time count on the upper part of the center of his vision after.
The tag duel ended unexpectedly fast, it began with 1800 seconds and still left about 200 seconds of time. Operating the Brain Burst menu once the battle has ended won't even need to use up one point from the extra Burst Points. Three minutes of time was enough.
On his decision, Haruyuki reached his hand to his health gauge, opening the main menu commonly known as «Insto». Its strange name came from large scale game storage, old fashioned amusement shops (it's what they call game centers at that time). It originated from paper manuals that were simply inserted at the upper part of the control panel called «Instruction Card».
The well developed holographic window design that appeared in the center of his vision accompanied with light sound effects was widely used on VRMMO-RPG.
A simplified silhouette of his duel avatar is shown on the initial screen. Silver Crow ignored seeing the silhouette exhibiting common techniques and currently learned special move when he touched some buttons on the same screen for it made him feel down.
The point management screen and storage screen tab appears on the top part. Ignoring the fact that there was no item in possession, he continued to move to the point management screen.
The numbers [308] was evidently displayed in the upper center part of the window. Naturally, it was all the points currently in his possession. A relaxed expression on his lips under the helmet can be seen, even if you look at it a number of times. In the real world, it was like the pleasure of having your bank savings be more than 10,000 yen for the first time. These points were earned by having his hand and foot (wings at times) literally put off to work.
—Would senpai be happy if she knew about this? No, with a calm face she would surely say 'You're still a chick'.
Haruyuki, while having thoughts in his mind, pressed the point's button and a shining [LEVEL UP] button popped up, overlapping the screen.
An English confirmation dialog which says that 300 points will be consumed to raise his level to 2 appeared. Haruyuki, seeing the yes button, felt an unusual cold feeling coming from the base of his fingers on the User InterfaceUI he was touching—
A Moment. Cyan Pile who was looking up at the sky turned around to look at the place where he felt something strange. He took a full step and shouted after he recognized Haruyuki's fidgeting gestures.
"D-Don't do it Haru! Stop!"
However, by the time he heard those scream, his fingers already pressed the three character [YES] button.
A sensational and exciting level up fanfare tune echoed in his hearing. A Level 2 message confirmation came up on the center of his vision.
And Finally.
The remaining Burst Points in his possession had dropped, from 308 points to 8 points.
[edit]
Part 2
30 minutes after the battle ended, Haruyuki, realizing what mess he put himself into, woke up on the library reading booth he uses to dive on Shinjuku-ku.
The door immediately opened from outside and a hand quickly reached for Haruyuki, who was leaning dumbfounded on the reclining chair, forcefully removing his aluminum-silver Neuro-Linker from his neck. The virtual desktop displayed in his vision completely vanished.
Pulling off a stranger's Neuro-Linker is a crime, similarly, to do it among close friends was the highest form of disrespect. But now, Mayuzumi Takumu— Takumu couldn't help barging into Haruyuki's booth by all means because of a strong reason. Haruyuki learned that strong reason painfully.
It's because Haruyuki now only have 8 Burst Points left in his possession. If he lost to an intruder, he will lose 10 points and will lead to Brain Burst's forced uninstall in response to his total loss.
Haruyuki, finally recognizing the facts, opened both of his eyes in astonishment while looking at the blue-grey, stand up collared student uniformed Takumu. His best friend's lips trembled letting out a hoarse voice.
"......For such a thing to happen.......I'm sorry, I'm really sorry, Haru. I forgot to tell you the most important thing....... «Even if your points reached a possibility to level up, you shouldn't raise your level yet»...... As your instructor, it is important that I teach this matter to you even if I forgot something else......"
—Indeed.
Level up in Brain Burst game, unlike other games where it is automatic when the experience reaches a fixed value, consumes points in your possession that is required for it.
A 300 point requirement is needed to raise your level to 2. That is to say, if the total points in possession before leveling up are 308 points, obviously, even if it's not explained the remaining points will be 8 points. That's why, «you shouldn't level up immediately». You should only consume points until you've reached the safety zone margin. It is an absolute level up condition—
Haruyuki similarly murmured a hoarse voice as he looked at Takumu's face that was biting his lips.
"......Taku......I....... was stupid. I should have given it a little thought......I was thrilled ......having 300 points saved up...... I was......stupid......"
As of now, he is strongly aware that his «life as a Burst Linker» is now in an unstable state. Since Kuroyukihime gave him the program half a month ago, Haruyuki's points was greatly reduced to 70. Now, it is just 8 points. If Takumu did not forcibly remove his Neuro-Linker and lost to a fight between any «Intruders», Haruyuki might have lost Brain Burst as well.
He slowly quivered while his hand is holding the armrest of the mesh chair. What to do? What's the best thing to do? Those are the things running around on his mind. The world changed, I thought that person changed my world. But after this, I believe I've changed it myself little by little.
"Haru"
Unexpectedly, his right hand was strongly gripped. Takumu, whose cool passionate eyes were filled with light, moved his body from the sliding door's side of the small reading booth and strongly whispered.
"Everything's alright, Haru. It hasn't ended yet. There's a way on how to recover from this. For the mean time, let's go to your house."
".............Taku......"
Takumu, who left the blue legion to become Haruyuki's instructor after the «hospital duel» two weeks ago, used to visit Haruyuki's house once in a while. No matter how many times he was invited, he only shakes his head with a smile. As if to say that he doesn't qualify completely to do so.
But there was a sudden change now due to an emergency, Takumu's restraint from before suddenly vanished.
"A-Ah, lets go. We can't talk in details here."
He nodded a bit, stood up and removed his bag from its designated wall hook.
Their «Duel» takes place in a huge library facility that provides more than 200 seats of full dive capable e-book reading booths that they use after school.
Although it is convenient seeing the duel field in reality because it reduces the chances of splitting up, «Brain Burst» related talk can't be recklessly continued with the use of natural voice because of the place being crowded with neighboring elementary/middle/high school's students after school. Takumu had a little hesitation to direct link since a great amount of surrounding same aged students goes to the place.
—No, I don't care if anybody judges me but, Taku is, how to say it, stands out, and if seen by a friend in the same school, a shameful strange rumor might spread......
Increasing his walking pace to run after his best friend who was in front, the cold sweat that spreads over his back dried while he was thinking. With remaining 8 points, Takumu said it was somehow alright. Haruyuki persuaded himself while deeply inhaling the slightly cold air of November as he passed the door.

The sky was fairly dark when they got down from the bus at North Kouenji, Suginami-ku's Oume highway after coming from Tokyo government office to get to their home apartment complex. The apartment complex has a resident used elevator that needs authentication every time it was used.
Haruyuki didn't know the exact time since his Neuro Linker was still removed until now and Takumu paid for his bus fair. Of course, there will be no risk of other Burst Linkers intruding if the global connection is cancelled after putting it back, but thinking of the «worst case scenario» he lost the courage in putting the machine back in his neck.
Takumu lives at the opposite A-building so he can't remember how many years it has been since they got on the same elevator. They got off at the 23rd floor of the B-building and continued to the unattended house's door locks with built in emergency intercoms that uses fingerprint and retina authentication to unlock.
"Sorry to intrude."
Haruyuki continued to the entrance hallway while Takumu stepped in to follow and his lips gave a faint smile realizing that this is the first time since he visited the Arita household in along time.
"......How nostalgic. It's been a year and half isn't it?"
"Eh......already, It has been that long?"
Haruyuki's hands stopped as he was about to take out some slippers when he tried to recall the memories inside his head. Takumu last came to this house— to be accurate «stopped coming» since he and Chiyuri started dating each other in the spring of 6th grade in elementary school. As of now its autumn of 1st grade in middle school, certainly it has been a year and a half since then.
"Here, I still even have these slippers."
While he said those words jokingly, Haruyuki was at Takumu's feet lining up small, faded yellow colored slippers. The one used by Takumu has its cover part with green threaded embroidery of a cute elephant face. Haruyuki still even has the one he used which is the one embroidered with a blue bear. Chiyuri used the one embroidered with a pink rabbit. The full set of slippers has not been thrown out even though it was rarely used. It was left alone on the rack for one and a half year.
The three of them bought the same set of slippers as present to each other on the Christmas of their 4th grade in elementary. In short, it should not only be in Haruyuki's house. The green elephant/blue bear/pink rabbit slippers mini-set should also be in Chiyuri's and Takumu's house.
The Kurashima household even still has that mini-set, he confirmed it when the two of them went to apologize for the «back door program» issue two weeks ago. Trying on the tight slippers, Takumu knew what words Haruyuki's smile was trying saying.
"......My mother, threw those out of our house when I left sixth grade. I cried in front of my parents, but that was the last of it......"
"I see. Then, let's buy another set of slippers this Christmas."
Haruyuki spoke with a straight face, Takumu gave out a short laugh.
"Haha...... that will be out of size already. How about a set of mug-cups instead?"
"Ooh, as expected of the stylish Mayuzumi-sensei."
*Don* He exaggeratedly pretended to tumble as he opened the room's door since his back is tired.
Haruyuki's room was 6-jyou wide and had a south faced veranda. Back in the past before moving out due to divorce, his father was using it as a study room. The east faced wall's built in bookshelves is a rare find nowadays. His father's hard bound book collection from the last generation was still unchanged. Of course Haruyuki doesn't even have a copy of his book in there.
Instead of books, the thing that was on the shelf was his alternative luxuries, old full dive technologies that uses game pads and game pack specific optical disk and memory card. Some of it have the age limit designation of Z at that time— it has excessive content of either bloody or fleshy components that was secretly contained in it— Chiyuri and Kuroyukihime must not be let to enter this room. Of course, besides Chiyuri, I can't think of any situation where Kuroyukihime will need to visit the Arita household.
Takumu had a nostalgic look as he touched the back of the packages one by one with his fingertips near the shelf.
"—On the day when we can't play outside because of rain, this was the strange game where the 3 of us was immersed with. That racing game......ah! that fighting game. Haru you're the most knowledgeable on most of the titles but on this one game where Chi-chan was so strong like a demon, even if it was 2-1 we didn't beat her......"
"Ah- that's right...... Maybe, she can be a powerful Burst Linker......"
Having the same thought of 'that wasn't possible!', the two who looked at each other was grinning.
Obviously, the three who used to play with «Games» everyday 3-4 years ago was not using the vision projected Neuro-Linker models, full dive models was used at that time.
However, games that contain anime-like and comic-like components have strict rating standards on people's age. Elementary students can only play newly produced games by intellectual training group or puzzle group and idyllic graphic adventures group games. Even if he asked an adult to buy a game, it wouldn't load on a child's Neuro-Linker.
And to go there, Haruyuki saves up some of his lunch money to respond to the expected merchandise fee and use the account left behind by his father on the Arita household home server — The last generation buys and collects the game title through mail order — of course, race crash-explosion fighting's hitting, kicking and beams and in an RPG stage where you peel off and massacre innocent small creatures for money and items was splendid specifications. It was unlike the 2D screen where there will be pain in the fingers holding the controller. There is no need to compare on which is more fun between those and children provided games.
Now that he's a middle school student, shooting and slashing people 12+rating Neuro-Linker games can now be played. Haruyuki relieves stress from school by playing a blood thirsty FPS and a thrilling race game everyday about a half month ago. But now, those startup icons don't exist in his virtual desktop anymore. It's because he understands now. The ultimate duel fighter game takes place in another reality. That world's overwhelming information, exchanging pain on skirmishes is a one time experience that cannot be reversed. You absolutely wouldn't want it to.......
His reminiscing has now caught up with the current critical situation. Haruyuki sat at the edge of the bed with a thud and gave a long sigh.
The situation was noticed by Takumu and stepped closer after he turned from the shelf. He put his bag down and flexibly sat down nearby.
Haruyuki asked timidly while looking at the neat face of his best friend.
"......Taku, before, you said 'there is still a way to recover'. Besides a sink or swim duel, is there really another way......? The only remaining points are just 8 points......"
"Ah...don't worry. It wouldn't be something that will lead you to a total loss."
With a low nod Takumu said some unexpected words.
"Haru, you have a XSB cable for direct connection right?"
"Eh...... A-Ah"
As he Nod, he pulled out the left side drawer and took out a silver colored bundled cord. The 2 meter length cable was taken by Takumu and inserted the other side in his blue Neuro-Linker terminal. Haruyuki was then surprised by the lines that came out of Takumu's mouth.
"Now, let's direct duel, take half of my remaining points. By that, we can avoid the danger of total loss at the mean time. Then, we'll choose a time and place where we can manage tag-matches slowly and continue to survive until we return to the safety zone."
"............!"
He suddenly gulped. Certainly, in a direct link duel there is no limit on «intruding the same person in a day». The theory of taking a desired number of points by repeating the duel for a number of times is possible. It is a very simple and efficient crisis prevention plan.
Haruyuki was still stunned while the other side of the plug was held by Takumu.
"Then, Haru."
Insisting on putting the direct link plug on his Neuro-Linker— Haruyuki stopped his hands. A 10 cm length apart from it, Takumu's face faintly distorted. He then let out a smile on his lips to endure whatever Haruyuki's reason may be.
"Ah......of course, you think that you can't trust me. I'll deceive you, attack and defeat you, then your Brain Burst at that instant......"
"N-No. That's not, that's not it Taku"
Haruyuki suddenly grabbed Takumu's left shoulder with his right hand. Under the school uniform clothing were strong muscles as stiff as his feelings. Haruyuki earnestly argued.
"I wasn't thinking that you will betray me. That's not it, also I...... don't have the right to do such things to you......"
"W-What are you saying Haru!"
Just now, Takumu turned his body while Haruyuki's right hand was till strongly grasping his left shoulder. Takumu's Intellectual looking face showed a wholehearted facial expression while shouting.
"I don't care of those circumstances right now! If you are defeated by a same level enemy, it would lead to a 10 point loss. Your Brain Burst will forcibly uninstall! And to forget something important like that is my fault! So it is natural that we have to split my points......"
"But, I don't want your points to be bargained!"
Haruyuki didn't know that there will be a vigorous fight from the beginning and refused.
In the first place, Takumu depended on a «Back Door Program» cheat tool because of the pressure of overusing his remaining Burst Points. This past two weeks, Haruyuki's tag battle with him was somewhat rehabilitation but, at the last moment they needed to recover to a safety zone. If Haruyuki transfers half now, it will once again decrease to a danger level without a doubt.
However Takumu's tone indicated a refusal.
"You don't have to worry about such things. We can have another direct link duel and exchange again someday. This is an emergency escape. And if you totally lose here...... the hospitalized master will receive a huge shock. Didn't you think about it?"
"......That's......"
In fact— that's right. Even now, the Health Care UnitHCU micromachines helps on curing the «Master», Kuroyukihime's serious injury which she gained two weeks ago. To see her «Child», Haruyuki's everyday growth is something to look forward to. Knowing about the increase of his level to 2 followed by a loss would leave her in shock and make her condition worse. Takumu began to continue with an intense tone.
"I'm telling you Haru! You being level 2, we can continue our «Nega Nebulas» territory proclamation to the vacant space area Suginami! It will be after the release of master from hospital and we wouldn't worry on connecting to global net. Didn't you say so yourself?"
"Uh............"
Haruyuki was grinding his teeth hardly while thinking sincerely. What should I do now?
Eventually, the shivering lips let out a stuttering voice.
"......Taku. But......But, you know. Brain burst's «Draw» command exist while «Give Up» command doesn't. That's why, in a duel where you let me win, if you think of it, I will have to hit for 30 minutes until...... the HP gauge lowers and continue a one sided attack...... moreover I can't land a fatal attack. That......I don't want that......"
As Takumu heard those words, the right hand's grip lessened. He then smiled a little.
"It's fine, I don't mind at all. For the sake of helping a comrade...... a friend, I wouldn't mind any hit I take on the general duel field. Well then, hurry and insert the plug, Haru."
Takumu's voice and facial expression is filled with true feelings. After a while, he extended the XSB cable above Haruyuki's lap.
Two weeks has passed since he became a same legion companion but even now, all of Takumu's words and deeds appear to be a self punishment. There is no assurance that there is something hidden in the things that he do. The damage in the hospital duel when Haruyuki exchanged fist with him with all of his power, as he continued to push the feelings contained deep down within his heart for how many years was expressed without leaving anything. After the battle, he apologized to Chiyuri and Kuroyukihime and left the blue legion. Haruyuki believes that Takumu's sins were washed away.
That's why he can't rely on Takumu now. He and Takumu are permanent equals as a friend and comrade. Haruyuki declared that himself at the end of that battle. Takumu relied on feelings to comply with the critical part he was involved in, that's why his words here became a lie.
And more than anything else—. No matter what situation it is, to attack an unresisting friend one sided to take points would be a stealing behavior. Haruyuki's «Gamer Soul» won't permit it.
"......Even senpai......Even the Black King, Black Lotus."
Haruyuki moved his mouth while staring at the little pale colored eyes of Takumu.
"That person, to protect me from the rampant car, used the «Physical Full Burst» command. Her remaining Points became close to danger. But that person didn't say 'Let's split your points' even once to me. Even if I say it, she will surely get unreasonably angry. That person for me, I can't compare the level, strength and experience with but...... I want to be the same Burst Linker like senpai."
For a few seconds, Takumu didn't say anything.
"......As expected, you really are one pleasant and stubborn guy, Haru."
The hand that was gripping the shoulder was loosened and patted as it moved away. Takumu removed the Neuro Linker cable, tied it in a bundle like before. Takumu changed his facial expression.
"—Indeed, my points, even if I transfer only a little amount, it will not be a basic solution. The problem is, the points left are in danger, and the pressure will unconsciously call out impatience. Being impatient, your outlook in battle becomes narrow. The ability to react at a situation is lowered. Before, I said 'win and survive battles', but to do that is really…extremely hard. «I want to win» are the feelings that are important and «I don't want to lose points» are feelings that are somewhat similar. To be honest, in early autumn, when the points remaining decreased from 100 points, my general duel average winning percentage was at 30 percent level."
"......Ah, but somehow, I understand. Me too, if I gamble in a duel, I will not be able to move because I'll lose confidence......"
Haruyuki murmured. Takumu's 'I wish it was just unusual confidence' bitter smile, changed to a serious look once again.
"Your way to escape the current situation—. There is something, there is one way left."
"Eh...... there's still something, another way?"
He widened his eyes. Takumu hesitated to say it instantly and replied with a low voice.
"Yes. It's quite risky......I don't think the possibility is zero......but maybe, the points that you could gain here might be stolen away from you if you're not cautious."
Haruyuki Held his breath waiting toward the continuation. Takumu then said more unexpected words.

"Hire a «Bouncer». Your points will recover to the safety zone once again."
[edit]
Part 3
The following Saturday, 12:50 p.m. in the afternoon.
Haruyuki and Takumu were together on a rocking train in the Chuo-line.
Compared to the automobile or bike road traffic situation which greatly changed in the early 21st century, the train vehicles have still kept its basic structure for nearly 100 years. Driving it now is left to an AI that can automatically control everything making shakes and noises greatly improved however, passengers being cramped in a single place on the cube-like rail vehicle didn't change.
—Ah, this feeling, how nostalgic.
Haruyuki murmured in his mind as he stand near Takumu.
Even if viewed from Haruyuki's eyes, the plain clothed Takumu looked stylish and not stingy. The 175cm tall first year middle schooler looked refined in his faded black jeans with a knitted rough woolen bundle and wore an indigo blue mod coat on top making a lot of women in the same cart glance at him couple of times awhile ago.
But those glances are suddenly filled with an abyss doubt the moment they see the mobile poyon like creature, cozily standing at Takumu's side. Haruyuki can't think of anything about that kind of combination even if their positions have been reversed. When he was still at elementary school, there was a time where he couldn't stand it anymore and wanted to dig a hole to be buried in it but fortunately, about a year ago, he gained the resistance on that nostalgic grim situation. And so, Haruyuki's composure didn't falter with strangers' downsizing gazes.
The risky situation where his life as a Burst Linker will be determined depends on the intention of the person they are about to contact.
It was soon indicated in their vision the announcement of the train's arrival at the Ochanomizu station. Takumu regretfully pulled the sleeve of Haruyuki's stadium jumper and murmured.
"We're getting off."
"Ah......yeah."
He nodded as he rubbed his sweaty hands on the side of his baggy pants. The meeting place designated to contact the other party was at the terrace of a cafe in a large scale bookshop on Jinbouchou. It's a small walk from Ochanomizu station but it will still take about 30 minutes.
Of course, to meet directly face to face wasn't necessary since the other person is also a Burst Linker. Then why would an appointment in the real world be necessary? That's because, the only «Bouncer» in Accel World demanded it as a compensation.
«Expose reality»— the biggest taboo of a Burst Linker.

"B-Bouncer!?"
Yesterday, Haruyuki shouted the words he mimicked from Takumu after being speechless from what Takumu said in his room.
Takumu nodded and began to explain it calmly.
"Even I, who have only observed with the Gallery for a couple of times, haven't experienced a direct conversation. His avatar name is «Aqua Current». The armor's color is unknown."
"Aqua......Current."
He murmured the unfamiliar name. It wouldn't be surprising since there are about 1000 Burst Linkers in central Tokyo, the problem is the one that followed.
"Armor color......unknown? What do you mean by unknown?"
"You'll understand if you see it......is what I want to say, but it would be better if you have a lot of background information. That's right......what could be the best way to explain it......"
The always logical Takumu unusually groaned for several seconds and uttered somewhat unexpected words.
"Haru. «Water», is «Water colored» right?"
"Uhe......?"
He leaked out a dumb voice and began to think it over. Speaking of water's color, the typical color should be light blue.
But obviously, water is colorless and transparent. Depending only on the situation that it would look like bluish.
"In short, Aqua Current's armor is not water colored but it is......the color of water?"
"That's right. I don't think you can understand any more of this without actually seeing it. Also, rather than the outward appearance, the play style is more important."
Takumu cut his words there, the talk to only resume after Haruyuki brought a grapefruit juice from the kitchen which he moistened his throat with and soon then continued.
"—He is, Accel World's only «Bouncer»......maybe that person makes it a business......maybe role playing as one......but anyway, he is an advocate of that style. In addition, it's only limited to a newbie. To be more specific, only for Burst Linkers who have yet to surpass level 2 and have their remaining points in danger, he will partner with the client in a tag-match until they are able to return to the safe zone. Rumors say that even until now, there hasn't been a client that received a total loss during the mission."
"......S-Seriously......"
Dumbfounded as he opened his eyes, Haruyuki earnestly tried to retain and understand Takumu's story.
"Uhm......in other words, that Aqua-san, tag-teams with level 1 or 2 newbie whose points are on the verge of exhaustion and that person is completely protected in duels until he wins?"
"That is right."
"A-Amazing, to do that kind of thing....... I'm sure he's a high-ranked tremendous veteran......around level 7 or 8, with a position near a king......"
Takumu heard Haruyuki's admiration, smiled a little, shook his head and told the most shocking words at that day.
"No. Aqua Current is commonly known as «The One». He is called that because his current level is......1."

He recalled yesterday's conversation as they headed south of Meidai street and after 15 minutes, a large intersection appeared ahead of them. Yasukuni street is included in the so-called Kanda-Jinbouchou area— the world's largest «Book Town», continuing to exist since the last generation.
Needless to say, in the current year 2046, «Book» is a term used to refer for Neuro Linker-used electronic-books. Selling publications has been completely online, the readers buy the books and use a dedicated viewer, of course to read, in their virtual desktop, those who prefer Full-Dive can also enjoy using its «Book Form» appearance on some cases.
However, there are still many people who say that 'the books are just digital data, not like real books which are printed and carefully bounded in reality'. Even Haruyuki felt attracted to Kuroyukihime who was reading a beautifully bound hardcover book in the school lounge and similarly, felt nostalgic on a large-sized encyclopedia in his father's collection whose face he can't remember.
The stream of electronic-book era wasn't really considered as a cause of extinction of real world bookstores because they have specialized on customer needs that made them survive. Rather than selling books, they make books— the electronic-books that are brought in by the customers are printed on paper and then bounded. In other words, the «Bookstore» business that has never before had a print shop like function, one of the few published-book in paper media marketer, and the former secondhand book marketer still crowds on Kanda-Jinbouchou area.
Haruyuki and Takumu were headed to a situated building with a large scale bookshop facing Surugadai-shita intersection. On the building's rooftop was a bearer of paper culture's pride, rather than Augmented RealityAR, a genuine large panel advertisement with a print of a character from a book intended for young readers was proudly enshrined. That was the only business advertisement that they saw since the two of them had their Neuro-Linker disconnected from the global net until now.
The mysterious bouncer «Aqua Current» made the building's top floor bookshop cafeteria establishment as the designated meeting place after Haruyuki sent him a job request on his only mail-address contact last night. Intuitively, before crossing the intersection in front of the bookshop, Haruyuki gently pulled Takumu's sleeve.
"It's fine here, Taku."
"Eh......but."
His childhood friend shook his head and with a hushed voice strongly spoke.
"«Reality Break is the greatest taboo»......if real information spreads, there might be a PK you know. For me to pay the price because of being on the verge of total loss is unavoidable. But for you to endanger yourself is not necessary. This is not meaningless obstinacy."
"......I understand."
Fortunately Takumu, whose face was not fully convinced, nodded and pointed at a hamburger shop in the vicinity.
"Well then, I'll be waiting over there. I'll be expecting a good report from you."
Making a step, this time Takumu grabbed Haruyuki's left arm.
"—Good luck, Haru. Whatever happens, it's still the beginning."
Supposedly a tag duel with the contacted bouncer for the sake of restoring points can immediately take place, or possibly an initial duel where I am unluckily defeated and Brain Burst would probably be lost.
With a slight shiver, Haruyuki deeply nodded.
"Ah, I understand. Even I don't have the intention of going down here. Don't worry! I'll come back with profit."
"......Somehow, that feels like a speech from a terrible at work protagonist of a computer game movie or something."
The tensioned facial expression changed and a smile appeared from Takumu after saying those words, Haruyuki was sure that it was for lightening-up his feelings. Certainly, the ways of movies makes the protagonist's plans a success in smooth way without even trying. Haruyuki grinned and laughed but was truly grateful to his best friend's innermost concern and responded with bright voice.
"In a sense, you don't have to worry. Besides, those movies definitely settle at a happy ending. Well then...I'm going now."
With a step, Haruyuki turned around, made a slightly clenched fist and ran on the pedestrian crossing exactly as the signal turned blue.

Inside the large bookshop, a nostalgic smell of paper faintly drifted.
Newly published books are sold in the first and second floor. Secondhand books are on the third and fourth floor. On demand electronic-books are printed and bounded on the fifth and sixth floor while the seventh floor is a cafeteria where you can savor the just finished books.
Haruyuki used the elevator to immediately go up to the seventh floor and first had an extensive look at the store's wide interior while he was at the entrance. Approximately 2/3 of the 30 desk tables are occupied with customers who are mostly flipping a page with one hand while drinking. Surprisingly, there were only a few middle and high school students as well as youngsters. Three four-person group of intellectuals gathered to read small booklets and a person who reads a small book collection, it would be impossible to know who «Aqua Current» is with this. —No, it is also possible that he was inside the store earlier.
However, I have prepared for the worst before coming into this business.
Haruyuki's stepped into the store at that very moment the appointment time of 1:30 p.m. was indicated in his lower right vision and stood in front of the counter with an elderly waiter which was also included in the mailed instructions.
"Um......I have an appointment at table number 17."
'Right away sir!' He was guided to the table and when he was about to say it, the table was really unattended. A faint steam rising on a coffee cup and a small shopping bag was on the natural-wood table. For the mean time, he sat opposite of the two seated chair, took a glance at the paper-made menu that the waiter took out and ordered an orange juice.
*Fuu* He exhaled and glanced at his surroundings again to confirm. The table having its right side near the window, a panoramic view of Jinbouchou can be seen over the organic light control glass. In front and the left-side are tables with adult customers. There wasn't a feeling of anyone's sight looking but, Aqua Current is checking Haruyuki from somewhere no doubt—
He was thinking until now. A faint *Chichichi* electronic sound lured his hearing. After several seconds, it repeated. And then he noticed. The sound was coming from inside the white shopping bag on the table.
Hearing the sound for the third time, he timidly inserted his hand on the bag. he felt a plank-like object on his fingertips. He gently pulled out a tablet-like device. It was a multi-purpose portable device before Neuro Linker was released, popularized and implemented. The soft-keyboard window was the only thing displayed at the 7-inch ElectroluminescentEL monitor. A significant [Input Name] command floated on the window.
Arita...... was reflexively pound into but, he hurriedly pressed backspace and moved once again. The character string that was entered was of course, [Silver Crow].
The screen completely changed as soon as he pressed the enter key.
"......!"
A collection of a young man's poor hair, eyebrows in a timid angle, round eyes and surprised cheeks— it was not other than Haruyuki's face. It was taken by a small camera provided in the top part of the device. The photo vanished as soon as the next window floated.
[The compensation is confirmed to be received. At 13:40, the mission request will commence. Be prepared and standby.] The new sentence merely appeared for 10-seconds. The device's power cut-out on its own and the monitor blacked out.
While unconsciously putting back the tablet to its original place inside the shopping bag, Haruyuki now couldn't help but think.
—Why? Why does the mysterious bouncer Burst linker «Aqua Current» do such things?
He continuously chugged the orange juice that just arrived in one go for half a minute to fuel his brain for a full revolution. For sure, a Burst Linker's full name and portrait will be an information that possesses an unbelievable value in Accel World. After its release, «Physical Knocker» or PK named outlaws' real attacks can rob Burst Point's roots and branches. Even information about the roots would sell high.
However, as Aqua Current's client, you have to be on the verge of losing all points and be a newbie with level that's still up to 2. Such Burst Linkers wouldn't be prey to real attack. Otherwise, it would've seemed to be none other than «Harvesting a Raised Crop» right? Will the portrait held be once again sold to Physical KnockerPKs when the points are raised and restored to the safety zone?
Though last night, Haruyuki's words weren't like what Takumu said. Aqua Current guards the Burst linker, after that, there wasn't a single person who suffered a real attack. Conversely, Aqua Current's popularity as a bouncer will fall to the ground if there was such a case and there wouldn't be a request from anybody anymore.
All in all, the reason he adhere to bouncer play style and demands real information as compensation is as usual still a great mystery.......
Thinking that far, the clock hit the 35th minute. His stomach was once again filled with an air of tension and at the same time, another signal was transmitted.
"Not good......"
Haruyuki hurriedly looked around the store and stood up as he found the toilet sign. To get through with things that have to be done is a Burst Linker's common practice since during a duel, the real body's physiological desires are fundamentally cut-off.
He took off his stadium jumper, hung it at the chair's back and head to the toilet with a quick pace. Good grief, in this technologically advanced society, leaking unnecessary moisture should also be soon made online right......?
Perhaps because of thinking something trivial or because of habitually curving timidly to look down or because of the Neuro-Linker being globally disconnected or possibly because all those are the original problems. Haruyuki tried to enter the passageway with the toilet sign but was a little too late to notice someone who was coming out just behind the corner. The other person stopping one meter away, the collision could've been avoided if Haruyuki was looking properly. However, Haruyuki, who was lost in his thoughts while looking down, only had the brown colored short boots' tip to enter his vision, barely sensing the situation at that time, a small voice was raised.
"Ah......!"
He tried to brake abruptly. But, his real body was too sluggish and couldn't control the inertial mass. Haruyuki, who looked like stepping on a tatara, quickly moved a step to the left of the other person. Haruyuki advancing forward and lightly stumbling on his own— was supposed to happen. Unfortunately.
The other person moved at the same time making Haruyuki foolishly try to change direction again. He tried to go back again to the original course while on a slight panic. Nevertheless, those actions caused a calamity, the left-foot stepping to the left caught up with the right foot. Nothing was left, the blue-lineage duel avatar's body was hit with an attack that can't be matched without rushing off—.
If a text was written, donponyuwanzudenn or something like that together with its consecutive sensation would be there as Haruyuki fell down with all might in the passage, dragging along the person in front of him.
——At least. I hope at least, the other person wouldn't be among the following. ① Among the aged-people. ②Among the women. ③Among the scary people.
"u......uuh......"
A voice immediately passed the vicinity, it clearly didn't carry a ② which was Haruyuki's body and soul prayer. His only wish is what was left is not the same as ③. His body being in contact with the other person, he rolled to the left and raised his body like rubbing his back on a wall, most of the sound he made couldn't become a voice while apologizing.
"So......Sorr......Sor, Sorry......!"
Sweat and tears blurred the center of Haruyuki's vision, his offset collision partner finally raised his upper body. Because the other person stopped, the careless/excessive-speed/not looking-on person in front was obviously to be blamed with a rate of 10:0. However, the other person, no matter how you look at it, is an unknown-aged or slightly-aged woman— A race which Haruyuki's communication skills had only partially developed with.
The body was quite slim. She was wearing a grey pea coat and slim jeans. Short haired, having its tips winding in. And a small face with a red plastic-framed glasses, which is unusual nowadays. Moreover, a girl that suits to be in a book's paper hardcover.
Seemed that nothing applied to ③, with a small relief, Haruyuki once again bowed deeply.
"Um......I'm really sorry, I didn't saw you earlier."
"......It's nothing"
The glasses girl stood up after saying those short words. Looking around, she soon tried to extend her hand near the floor where Haruyuki is. Before that, Haruyuki had already noticed a small shoulder bag that fell and his hands reflexively extended to pick it up.
At that instant, the girl spoke with a small voice.
"Ah, you can't......"
"Eh?"
Surprising Haruyuki, another mistake was there once again. The bag was raised in its bottom, the flap opened and something small and plate-like rolled out from inside.
"Sor, Sorry......!"
Hanging a third time apology in his throat like a hiccup, Haruyuki extended his left hand again to pick up the thing that fell on the floor.
"......!"
At the same time, the girl took a short breath and quickly leaned over. However, Haruyuki who was sitting on the floor was slightly faster. A portable net terminal that was rare nowadays was picked up. He tried to return the small machine that can be wrapped within a palm in its bag— but before it could happen. The upside down terminal's monitor was caught in an eye glance.
"......e"
A small voice leaked from his mouth.
The motion sensor recorded the shock when it fell cancelling its sleep causing the monitor to light up. That's great. The problem now is the photo in the window on the display screen. He stared intently at the familiar face.
"Please give it back."
The girl tried to take back the terminal after saying those small words. Yet Haruyuki, drawing back his hand unconsciously, prevented it. It's because the thing projected in the monitor, bossa hair, rounded eyes, pure face, and was really an unclear picture of a young man's face. That person, wherever you look at it, is Arita Haruyuki no doubt.
"What......This......How......"
Holding the terminal devotedly, the dumbfounded Haruyuki looked up at the glasses girl. The small face stiffened, the girl's eyes twitched and she trembled while Haruyuki's hand again sacked the terminal and put it in the bag not letting her to leave.
It is possible that this girl fell at first sight and took Haruyuki's photo secretly— it is not impossible. With that, the possibility that it is the truth and the possibility of having a large meteorite drop tomorrow causing earth's ruin is pretty much the same. In other words, that is probably no doubt, a mistake—.
She, a book loving glasses girl, fit in the category «②Women» from the category a while ago and at the same time, a «④Burst Linker».
Earlier, the tablet terminal was placed before Haruyuki sat on the table and this woman operated a portable terminal while on the toilet. Then, the photo taken by the portable tablet's camera was transmitted, she then went out the toilet and collided with Haruyuki, and that's what happened. Then, in that case. She is, The «Bouncer» that would help Haruyuki, the legendary Burst Linker with a second name of «The One»——
"......«Aqua Current»-san......?"
Haruyuki sent out murmurs, the glasses girl pretended to look up at the ceiling and leaned her back at the wall with a thud.
[edit]
Part 4
For now, Haruyuki came out from the men's room finishing things that needs to be finished and unwillingly took the glasses girl to the original table.
They silently glanced at each other after taking a seat across. Haruyuki shrank his neck and shoulder to the limit when their eyes met and peeked at the situation with flickering upturned eyes.
Looking at the woman sitting there from a well-lighted area, she was wearing a pair of glasses and conservative clothes as well as hairdo and looked like being taken aback to someplace exhibiting a mysterious atmosphere. Her pupil color was thick and cannot be said good, simply looking inside is not easy because of the obstruction, giving off an unknown feeling. She was like someone who gives mercy, there was some kind of pressure.......
Then, suddenly the girl — probably seems one or two year-level higher — put her hands in the bag and took out a disk shaped object. There were two silver color plugs protruding from its sides. It was a XSB cable with a cord reel.
There was a soft sound as she pulled the other side of the plug, lifted the inward curl of her short hair, and inserted it at a dark red Neuro-Linker which is similar to her glasses. After that, the other side of the plug was extended and slid right in front of Haruyuki.
"......err......umm......"
Unable to move his hands, Haruyuki alternately looked at the plug and at the girl's sight.
In this situation, there wouldn't be any other purpose aside from inserting it at his Neuro Linker. But that is a kind of «Direct Communication Cable» where if it's used for direct connection in a public space, it will be like a declaration of an unusual relationship between two persons. That's something that he can't forget since the lunch break of his fifth grade in elementary. A frivolous classmate abruptly made a direct connection between a beautiful girl in class and Haruyuki who was sitting at the back as a prank, the girl cried hysterically till the end making him guilty of that worst incident. In other words, making such direct connections and stuff, such as making direct connection in public places with Haruyuki, can only be done by the Black King who was the only person who hold the courage to do so—......
—I see. This person is like Kuroyukihime-senpai....... I don't mean the appearance; it's something like the presence, something like the strength.......
With that thought at that moment, Haruyuki extended his hand and picked up the plug.
Surely, this is the last time I will have direct connection with other person besides senpai. Considering such things, he inserted the Neuro Linker connector.
A flickering red lettered Wired Connection notice appeared in his vision and disappeared. After a second, inside his head, there was something really delicate and lovely— despite that, a thought voice resounded through the core pin.
[......I am now, considering two possibilities. You are a very skillful impostor acting, to breakdown my reality you intentionally bumped with me... or else, you're an authentic birdbrain.]
[haa......]
Giving out a dumb voice first, Haruyuki hurriedly continued his words.
[It's true, the second one that is, I don't know how I will prove it, I can't think of anything immediately......]
Come to think of it, these words already fit of a birdbrain. Intentional blunder and the likes can be said impossible, for example in this situation, by intentionally throwing down the glass of orange juice won't be some kind of proof, it would only increase the other person's suspicion. He eagerly rubbed both of his index fingers together as his brains went into revolutions.
[......um, this is also not an evidence, the reason my remaining points was in danger, that is...... having the points go over 300 gave me a deep impression of power in my mind, while engrossed with it I pushed the level up button......]
There once again, he took a glimpse of the other person's face. This lady— probably «Aqua Current», had a different facial expression and nodded lightly after a short while.
[That's the truth and to some extent makes sense. These two weeks, the above 70 percent winning percentage average was hit by «Silver Crow», why would he suddenly become in a near death state I wonder.]
[M-my situation, you know about it!?]
Unintentionally leaning his big body forward, his stomach hit the edge of the table, the shock made the 1/3 juice remaining on the glass shake violently. The lady unaffectedly reached out her hands to support it and let out a voice at the same time.
[Right now in Accel World, the only person not hearing or knowing the rumor about you is the person himself.]
[Eh......T-T-That, to that extent.]
Feeling embarrassed thinking of things, Haruyuki scratched his head as the cute thought voice continued to stream in his hearing.
[The only person with the full flight type. The intellect part is unexpectedly visible because of easily taking offense. Weak against Ffemale type duel avatar in close combat. Although sly means were used on the person in question, he splendidly escapes.]
[............]
Haruyuki's loose mouth hardened as he glimpsed at the lady lifting her newly ordered cup of darjeeling tea.
[Seems just like the rumor that you're like a child, it is decided that you're an inborn birdbrain then.]
[..................]
—I suppose this is one of the delightful scenes right? Yeah, for sure.
As he told that to himself, for some reason Haruyuki's eyes was blurred with sweat.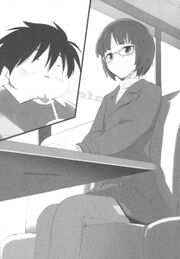 A clack sound was raised when the cup was returned by the glasses lady as she noticed Haruyuki having an inner conflict and stretched her back a little then spoke.
[It became an irregular situation, for the mean time, let's have an introduction. I am «Aqua Current». Under the agreement, I will guard you until your very low points return to the safety zone with 50 points restored]
[Ah......y-yes, pleased to meet you! I'm «Silver Crow».]
*pekori* He lowered his head. It might be a strange scene if viewed from the surrounding — actually, teenager boys and girls are apparently have flickering gazes — but he can't afford to worry. For Haruyuki, this strange lady is the only lifeline. Accel World's sole bouncer, bodyguard of zero request failure............
[Eh, ah, that.]
There at last, the first thing that came to Haruyuki's mind was a contradiction.
[Um, I too, heard rumors about Aqua Current-san lately and wanted to ask something......]
[You can call me «Karen».]
[T-Then me too, use «Crow» to cal-...... no I mean, I, believed that Karen-san is a guy...... a friend told me about you, and that's what I thought......]
Yes, it's no one but Takumu, when he said Aqua Current the pronoun «He» was used. Since that, Haruyuki classed the capable bouncer as a macho guy in a flashy-suit outfit — there's no teenager like that but — she was associated. And certainly, how could that be a bookstore matched glasses lady.
But Aqua Current, Karen for short, said it's not a big deal and shrugged her shoulders lightly.
[My duel avatar's appearance is an indistinguishable Mmale/Ffemale type.......Also, me too, I haven't said a word that I am a woman.]
[..................Heh? T-That means.]
Haruyuki opening his eyes and mouth absentmindedly, first looked at Karen's face and impolitely looked 70cm lower next, gazing nearby. However due to the tough cloth of the worn pea coat, it's hard to say with only this visual information.
—No, several minutes ago I, my face hit something. If the touched sensation can be played back then it would be answered. Remember. Revive my memories.
Having such weird thoughts, though it seems that it is not surely conveyed through the cable, Karen with a somewhat cold gaze said.
[It is past 5 minutes of the scheduled time but, from now on the tag duel will start. If it's possible we reach the target point at Chiyoda area, then we'll end there. If not, we'll continue with opponents at the neighboring Akihabara. Is there any questions?]
Here for example, if for argument's sake 'What is your bust cup?' is asked, what would happen? Saying that thought didn't emerge on my intra-cerebral mind for even 1 millisecond is a lie. But fortunately, a saving-throw will power succeeded, Haruyuki bouncily shook his neck side to side.
[No, i-i-it's okay...... I-I-I'm in your care.]
[Then, let's first register each other as tag partners. Once you're globally connected, accelerate immediately.]
[Y-Y-Yes!]
Nodding momentarily, Haruyuki first opened Brain Burst's console screen and registered «Aqua Current» as tag partner. Karen nodding to confirm, the Neuro-Linker's global net connection button was pressed. A connecting notice was lit, after a moment it changed to an earth icon when the connection was established, then shouted out a voice.
"«Burst Link»!"
Finally, this is the moment of moments, the life or death final battle.
Nevertheless, in the world that went into a blue frozen moment, Haruyuki's thoughts were occupied, Is this person a man? A woman? and other abyss-like questions.

There are two kinds of way of starting a «Duel».
While connected to the global net or local net and «Accelerate», the matching list will open, Burst Linkers connected in the same network that looks and selects options then pressing the duel button is one.
The second way is to wait for registrations in the matching list and charge other Burst Linkers who are waiting for duel. In simple terms, it is to do an «Intrusion»— and similar actions.
With the former, choosing a favorable partner for compatibility or personality can lead to an easy-win. However, there is point consumption at the moment of first acceleration, losing as well as draw is a balance minus. Like in existing old fashioned game centers where you meet and play fighting games, it is called «paying a hundred yen and losing».
For the latter, you can play without the points being consumed, it's generally «all odds» and judgment used to the opponent being intruded. Turning the tables is surely refreshing but, it is very tough in reality. Haruyuki who went on duels for two weeks, had a winning percentage is nearly 80 percent when intruding and had a 60 percent amount when on standby. For a newbie like him to be in an excellent number was due to partnering with the experienced and resourcefulness-rich «Cyan Pile » but, the «Flight Ability» appearing at Accel world for the first time, the support to be given by the partner became large. In fact, Silver Crow's duel opponents have somewhat became accustomed to his wings recently and as a tendency, the winning percentage is falling.
Haruyuki understood that for these reasons, the bouncer «Aqua Current » decided to choose the first match's opponent even if there will be point consumption. It is because in this battle, they absolutely must not lose. If the same leveled opponent wins, 10 points would be stolen at that moment, Haruyuki losing his life as a Burst Linker.
Hence, Haruyuki examined the matching list carefully thinking that the small chance of winning can go up if the intruded opponent are chosen but—.
In the transparent blue space «Blue World», there was the otter with hanging glasses that Karen appeared in, it also had an indistinguishable avatar gender, Haruyuki's pink pig avatar in an unworried state that glanced at the list, stretched his hand somewhere in the middle. At this point, their avatars are set to common full dive use having any other preferences diverted, the other person's gender and other information are impossible to know.
"Eh, um, h-h-he-w-w-wa-"
Haruyuki swung both of his hand hooves and eagerly interrupted. Fortunately, the otter's hand stopped just before it touched the window, red framed glasses that looked like the one from the real world was seen.
"U-Um, the matching list's level rank is ordered right? R-R-Right now Karen-san, aren't you about to choose an opponent from the middle......?"
"I was about to, is there any problem?"
"B-B-But, around the middle is around level 3 or 4 strong people!"
Haruyuki cried gravely, Karen shrugged a shoulder and calmly replied.
"There is no merit in choosing a same leveled opponent here. Your level is 2, and because my level is 1, we should choose an opponent tag partners that at least have a total of 6 levels or above. In that way, just in case you lose, your points won't become zero."
"T-That, theoretically may be true......"
Murmuring stunned, Haruyuki once again remembered Takumu's words.
The legendary bouncer named «Aqua Current». With an alias «The One», the reason is while being a veteran, he still have a level of 1 —.
However, thinking about it, I wonder if such things are even possible. The level is only one, to what extent will the client be protected with such strength? Why is it roughly 1? As you level HP increases, special move, ability and armaments can be acquired while you can freely choose a bonus for strengthening attribute. As long as you care on leaving enough points, there is no existing demerit on raising your level............
Thinking to there till now, Haruyuki finally realized, he opened both of his eyes in astonishment.
"Um, could it be......Karen-san, you are level 1, so when you're on a tag the total level is low......right? Whenever you form a tag...... the total level is always high, and when you win, the points acquired is lower, and when you lose the points lost is higher. In order to prevent it...... In other words, without knowing your face, for the sake of the newbie that are likely to be in a total loss, you stayed on being a level 1......right......?"
Haruyuki asking with a hoarse voice, the glasses wearing Otter's face remained without a trace of any expression and once again moved its shoulder up and down.
"It is only half the reason. The other half... the day coming when it will be time to tell you, it may or may not come. At least, your points today to be in a total loss won't come in an eternity"
"..................T-That's the case."
Once again, the twitching pig's nose was filled up with tension, Karen again stretched her right hand to the list and spoke.
"At this point, both of our names are also registered in the matching list. But talking in about split-seconds, there still might be someone who by chance accelerates at the same time, there might be still someone to intrude to us. If that happens, your precious 1 point will be wasted"
"Ah......y-yes indeed."
"This tag is level 3 and 4 but, we both should know. It is not your weakness which is red lineage ranged shooter type, because there is still a considerable margin of points, we should come out head-on in this match. If you show your true ability calmly, we will surely not lose......probably."
—This person, really knows about me. On top of that, she's seriously trying to help me. Why level 1, why demand the compensation of real information, what kind of motive does this contracted «Bouncer» have in the first place? I just still don't know that...... but still...... I'll believe. I'll believe and fight with all strength.
If I lose, Brain Burst is lost, at least there wouldn't be any regrets.
At this last moment, Haruyuki finally felt a modest but firmly concentrated resolve formed inside him.
Taking a deep breath and grasping both of his pig avatar's hands tightly, Haruyuki nodded.
"I, will do my best."
"As always. This is a battle that can't be lost but, the important thing besides winning......"
"Enjoy."
Haruyuki interrupted her words, Karen merely opened her eyes a little behind her glasses. Rubbing the tips of his nose while hiding his embarrassment, Haruyuki added one thing.
"My «Parent» told me. I should enjoy all of battles from now."
"......Indeed."
Slowly nodding, Aqua Current became mysterious for an instant— Was it my imagination? A reminiscing-like expression appeared as she touched the matching list.
"We're starting."
With that short word, the duel start button was pressed.
The frozen blue world and the two animal avatars vanished dissolving in light as Haruyuki's consciousness was brought in an unknown duel stage.
[edit]
Part 5
Aqua— «Water».
Current— «Flow».
Haruyuki, in this unusual straight case, could not help but think of the name given to the Burst Linker because there are many things that directly represents the avatar's featured appearance.
The silver winged avatar, «Silver Crow», turned glancing beside him as soon as he landed on the stage and grasped a thin silhouette of a slender figure.
Crow's height was slightly higher. There were no armor equipped in the torso and even in the slim hands and legs. Or, it might be possibly said that the whole body was the given special equipment.
It's because Aqua Current was covered all over of freely running membrane of water from head to toe. The avatar, with a thin cable of water beside the tip of its limbs, only had the sound of flowing water from shoulder to both hands, both legs and from the chest to hips as well as having a big ascending arc drawn on its back that once again wraps at the nape of the head. To put it in another way, Karen's armor was in an eternal loop of «Water Flow».
The water current was probably 2-3 centimeters thick which no matter what extent you strain your eyes, you wouldn't be able to see through the avatar's interior substance. The radiant green environment of the «Corrosion Forest» stage was caught by the water current making it have a light-green sparkle which was certainly what Takumu was talking about, «it's not water colored but it is the color of water». Also, it's difficult to decide whether the avatar is M-type or F-type from its figure.
Haruyuki finished observing for about two seconds and Karen's low first tone was let out.
"Two minutes until contact. The opponent tag will come from Meidai street which is south of Ochanomizu station area."
Even with that voice, the gender cannot be sensed because of a strong effective filter. In addition, the なのnano she uses to end her sentences when she's on her real character disappeared. If there was an accidental real attack like colliding at the front of the restrooms from before, there would not be any reason to doubt that Karen is a woman.
"Y-Yes......they'll come thrusting directly then."
Haruyuki nodded and changed his thoughts as a light-blue triangle, which is the «Guide Cursor», glared on the center of his vision.
The two people were currently on a large bookstore building in the south-west corner of Surugadai-shita intersection, Jinbouchou— standing atop of a big tree.
Even the trees only have nothing but excuse due to its deformed silhouette of partly-rotting wood from the hollow trunk to stretching leaves and branches that cannot be compared to the vigorous Hardwood-trees of the «Primeval Forest» stage.
Far below was Yasukuni street from east to west and Meidai street intersecting it from north to south making it a big intersection however, 80 percent of the ground area was covered with a poisonous purple mucus. A pot which sometimes raises bubbles, it was literally a «Poison Swamp». This Corrosion Forest stage stepped into have a poison swampland zone that carries a troublesome attribute of cutting up the health gauge.
The status of the two for the tag match was both indicated by the north-faced overlapping guide cursors. They went southward from Ochanomizu to Meidai street in a straight line with a relaxed descent. It appears that there was a grove of sick Baobab-like trees hindering but it seems like one from the tag broadly avoided the poison swamp and apparently dashed without worrying too much. The two lined-up tubes, which are the opponent tag's health gauge, on the upper-right side decreased bit by bit.
"......C-Certainly, I feel the match just right in front......"
While muttering, the opponent's names were finally confirmed. Level 4 «Nickel Doll» and level 3 «Sand Duct». Both of it were seen for the first time. First, the high altitude advantage must be used to collect information or possibly, the surprise attack theory can be considered, but Karen whispered easily betraying such expectations.
"Let's go down."
"Y-Yes."
Even if he didn't like what she said, he followed. The building originally have seven floors but from the tree top to the ground, it was probably 20 meters or more which the water-clad avatar advanced casually, tightly close to the vertical trunk like «flowing down». Haruyuki's eyes rounded for a while and hurriedly stepped a foot on the air.
Since the special move gauge is empty flying would be impossible but, gliding is possible with outstretched wings. Drawing a spiral with the fall, Karen arrived approximately at the same time. A place without a poison swamp was chosen to land the foot into.
Turning to face the uphill Meidai street, a heavy footstep arrived within ten seconds. It seems like at least one of them is considerably a heavyweight class. However for some reason, the guide cursor was pointing at the same direction but the second person's footstep cannot be felt.
That reason was soon identified.
The other one, which was an extra-small avatar, was sitting perched in the left shoulder of the large sports supply shop extra-large avatar with the expected height of nearly two meters that jumped out from the rotting Baobab shade.
"Thanks~ for the wait〜!"
The one on the shoulder cried a cute little girl voice. The height was fairly one meter. Silver Crow's unfinished reflective armor smoothly reflected the green ambient stage. It was with a long hair part, extended skirt armor equipment and its size appearing evidently like a doll. Without a doubt, she is the level 4 «Nickel Doll».
The silver-colored doll's cheerful first words were continued after a brief pause with a little dissatisfied-like tone.
"......is what I would like to say~, you «Intruded» us from there yet you anticipated us negligently~!, You pointlessly wasted two minutes you know~."
"S-Sorry......because this area's terrain is unfamiliar......"
Haruyuki unintentionally put his hands on the back of his head and apologized making the giant, whose shoulder the doll was sitting on, gave out a severe laugh.
"fuh, Apologies are a no. While you are idly standing there, we've been destroying objects to accumulate bonus."
"Uh-."
Looking at the enemy's gauge again, the blue special move gauge surely charged nearly 30% without being noticed. This is a big advantage.
The giant would be the level 3 «Sand Duct» which is equipped with a rough sand-colored armor like its name. The most eye-catching was the surface of both wrists that have a large open rectangular hole. If that is the air-duct just as the name suggested, will it blow air? Or possibly, that could have the ability to suck it. In either case, caution must be in essence.
Bearing it in his mind, Karen was standing behind before I could notice and gave a small whisper.
"I'll handle Duct. You go with Doll. She can yield electric current from both of her hands. Be careful not to be grabbed."
"Aa~, ta' heck you're spilling it~!"
The enemy shouldn't have heard that with that volume however, Nickel Doll having a good hearing cried out her resentment. Sand Duct with his foundations gravely lifted his right arm.
"As expected, «Bouncer»-dono's information skill shouldn't be taken lightly. Sorry, strategy-time has to end here.
Foooo......, it was a low growl. The blowing flow of air was felt and thinking immediately—.
"«Sand Blast»!!"
Uttering the technique name like roaring, a swirling sand-color gust fired out from the right hand's air-duct. Instincts went ahead that the poison swamp shouldn't be stepped on and even though reflex was a bit slow, he jumped greatly to the right at once. The moment he realized it, the sudden gust swallowed him from the elbow to the left arm.
"Wahhhh!"
The attack feeling like being pierced by numerous pins, he couldn't resist raising his voice. Looking at the left arm that barely escaped the wind, a part of the silver mirror armor glittered cloudy and looked like hanged sandpaper. That wind probably contains fine sand particles which give damage to the metal armor of those who are metal-colored. At that moment, the health gauge was shaved off by three percent.
Did the left behind Aqua Current escaped safely? Haruyuki thought as he was about to look and was surprised looking for the second time making him raise his voice.
"He-......"
Karen, crossing both of her arms taking a defensive stance, stood upright in the sandstorm. However, there wasn't even a slight tremor in her health gauge. Exceedingly straining my eyes, damaging sand particles of Sand Duct's technique was swallowed by the water current covering Karen's body making it unable to reach the avatar body and just circulates around.
Not too long, the sand storm stopped as the giant's special move gauge was used up and Karen lowered both of her arms like nothing happened then said.
"I am unaffected by particle-originated attacks. —I can return."
Casually putting up her right hand, the sand mixed with body's water current was gathered. A sand-mixed water formed into a thin spear on the tip of her hands and swung toward Sand Duct's left shoulder— attacking the place where Nickel Doll was sitting on.
"Kya-n!"
Doll jumped down from the shoulder having that cute, or probably unnatural, scream till now. 2-3 sand-flow spears were still aimed at the small avatar. Shouting 'Ya-n!' and 'Kya-n!', Doll was agilely evading surprisingly and avoided the ground areas dotted with poison swamp while hopping.
Haruyuki, looking at scene dumbfounded, noticed as he was taken aback. Karen was limiting her attacks to such extents intentionally so that the enemy tag will separate. In other words, my role here is to chase Doll.
—Soon, it would be useless to struggle. I haven't forgotten that the remaining points are just seven so I'll fight with all might. As what was always done, «Duel» with all your heart.
"WOO-!"
With that short scream, a violent 15 meter dash was aimed to Nickel Doll. The poison swamp was avoided carefully without losing sight of the enemy. And from the left side, Karen closed in with Sand Duct starting their melee combat.
Suddenly, there was countless of cheers coming from the sky one after another.
It's the «Gallery». Before the match typically starts, opposing players' converse with each other, loud voices are prohibited which is a standard manner so duel spectators restrained themselves till now. On those cheers, something like 'Crow-!' or 'Fly-!' were included. Even in the far-away from home Jinbouchou, there are people that know about Haruyuki.
Like being boosted by those voices, Haruyuki threw a sharp roundhouse kick to Nickel Doll who was waiting on an acquired island.
"Yan!"
The doll avatar with a height of fairly one meter, bent down to avoid the kick. However Haruyuki expected that behavior and changed the kick's trajectory in mid-air, dropping his heels below. Doll magnificently responded evading it, but the attack hit the stretched armor-skirt's right edge creating a dazzling spark since they both have the same metal-color characteristic and was then followed by a decrease in the health gauge.
"How cruel~!"
Though her pitiful cry resembled the voice of Haruyuki's favorite old-generation game character, he is not in a position where he can afford to stop and bite his hands. At any rate the opponent is level 4— Just like what the master Kuroyukihime's words, they've firmly exceeded the «Foremost Barrier».
"Sorry!"
Despite apologizing, both hands and feet were uninterruptedly drawn out rushed. There wasn't any special technique besides the wing at the back making Silver Crow learn to use his light-weight speed and hard cover-armor as weapons on the past two weeks.
That said, small lightweight/metal armored Nickel Doll was completely the same. Occasional shallow attack hits scattered flashy sparks without too much damage. As I have thought, a clean-hit can't be hoped for without doing some kind of drastic action.......
Thinking at that moment, as if anticipating Haruyuki's impatience, Nickel Doll suddenly jumped at his chest. Haruyuki's left hand was tightly held by a right hand and a delicate left hand with his right hand.
—Naive, I still have a head butt attack here!
On the verge of bending the sturdy helmet covering the face with all might, Karen's voice was remembered.
......She can produce electric current from both of her hands.......
"—uh-!!"
Head butt was instantly suspended and Haruyuki greatly leapt back. Almost simultaneously separating both arms, *Bachii!* an intense spark surged out from the spherical parts on the center of Doll's palm. Receiving an electric current, a shock instantly ran through the whole body.
The Health gauge's loss this time was suppressed within five percent and landed beside a small island.
"-ngerous......"
Haruyuki murmured as Doll cutely stepped ranting and shouted.
"Aan~! Escaping unfair~ly! Numbing you at great pain when I only thought of holding you up in my arms~!"
"R-Refrain please"
He bouncily shook his neck and checked both of their health gauges once again. Haruyuki still have 90 percent remaining while Doll's fell below 80 percent. The battle from the place afar have Sand Duct amounting with 80 percent while Karen, somehow was still almost full-tank. I want to see the legendary bouncer's fight! Thinking deeply, the opponent right before him must be taken seriously.
Nickel Doll's vertically-rolled, silver colored hair moved and her nose roughly ranged. Immediately after, the small face-mask had a coquettish smile.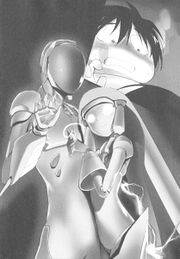 "Hey~, Aren't you that~? The one that recently appeared at Shinjuku area, Full-Flight-Type-kun."
"Y-Yeah, somewhat......"
Nodding with precaution, the western made doll-like avatar with a more fascinated smile whispered.
"Why did you team up with «Bouncer»? Could it be~, Your points are in danger~? So~, is being a friend a N-O~? Then the point stuffs, will be lent to you as much as you like~."
"Eh-......"
Haruyuki stiffened involuntarily as Doll's skirt gently shook when she jumped and moved on to the same island. From there, though she was unusually walking with a *tsutsutsu-* as she approaches, she still raised a sweet voice.
"And hey~, both of us, have matching skin color~. After forming a duo, the both of us will be the rumors' hot topic won't I-T~? And me~, the truth is I don't like that sand-guy~, well he's very rough ya' know. But hey~, your skin is so, SLIP-PE-RY ♡"
Nickel Doll already approached right in front of his eyes without noticing, poking her left hand's index finger in Haruyuki's chest, moving as if writing a character. Feeling embarrassed, his thoughts came to a halt. *Poya-* A pale pink color dyed the left side of his vision and soon, something moved. It was Doll's right hand. The focus of the extending index finger was to gently touch Haruyuki's left-side waist.
"............owa!"
Barely turning back as Haruyuki jumped vigorously, the fingertips from the both of Doll's hand sparked nearly at the same time. Once again, there was a momentary shock attack that took away five percent from the gauge.
Haruyuki, who moved to a further behind island, shout angered for tampering with his man's pure heart.
"S-Surprise attacks are unfair!"
The silver colored doll then laughed with a high-pitched *kyahahah* repeatedly.
"Aan~, is your man's heart hurt~? Sorry~, but being friends you~, my legion master will be offend-ed~!"
That would be true. Haruyuki belongs to «Nega Nebulas», the most wanted legion in Accel World led by the black king Black Lotus. However that is Haruyuki's greatest pride. Snappily thrusting his index finger, he shouted.
"Same here, I refuse being friends with you! Also, I'm not hurt at all! I'm absolutely not!"
Thinking of it calmly, it was like the words of a man with hurt feelings, he switched his thoughts from nothing to something and jumped. It seems Nickel Doll's playful acts stops here and with that change of expression, electricity was produced as both of her hands were brought together.
Probably those hands, the right hand is the positive pole while the left hand is the negative pole. Both hands were gripped at the same time, a large damaging electric current passed through the avatar as expected.
At an incomparable speed till now, the flash in Doll's both hands was able to catch Haruyuki. However Haruyuki pretended to evade to the right, it was something that the opponent hadn't expected— he then jumped inside a poison swamp to the left.
The knee-level purple swamp swallowed both of his legs. Doll had her back completely facing Haruyuki. Haruyuki, submerged in the swamp, extended both of his hand toward the small avatar one meter away and held its thin waist then tossed her with all might at the swamp behind with a German throw.
"Kyaaaaa!"
This time, a real shriek was raised as Doll thrust head-first in the poison swamp with splash. Fumes of unpleasant color were raised and the health gauge started to decrease bit by bit.
Nickel Doll immediately jumped to her feet and confirmed that the only nearby island was behind Haruyuki, she then shouted sharply.
"Wait, wouldn't it be the same for you? For your information, compared to the total HP amount of a level 2 like you, for a level 4 like me it's more......."
Then all of a sudden, it was silent. It seems like she finally noticed. Haruyuki being submerged in the poison swamp till now, his health gauge didn't even decrease.
Borrowing some of Aqua Current's words a while ago, Haruyuki thrust his index finger with a snap and shouted.
"A «Silver» like me unaffected by poison-!"
Just now, the Gallery above the Baobab trees from afar stirred up with an *ohh!*.
Indeed. Even if it's the same metal color, its characteristics is subtly different depending on what type of metal it is. Generally, precious gold and silver metals have a special attack while base steel and iron metals are strong at physical attacks making Haruyuki, which is among the silver, to have an absolute resistance on poison. Even in the real world, silver ion that is a strong antibacterial is used in sterilizing equipments.
In this short confrontation, Nickel Doll's health gauge was gradually decreasing. Therefore, although she has the same metal color with poison resistance, her delicate armor isn't completely coupled with it. Even if Doll can par with having a melee combat inside the swamp, it's obvious that she'll run out of strength first.
"......I see. You've been avoiding the swamps for the sake of leading me in to neglect the situation without being suspected."
Looking down briefly at the purple swamp that swallows up to her waist, Doll whispered.
"As expected of being in the left end side of the «Metal Color Chart». But you know, I'll be troubled if nickel is treated as fake silver. Isn't there a variety of uses? Like how hydrogen takes up and generate power, right?"
Hearing those words at that moment, something flashed at Haruyuki's mind.
In the current year 2046, electric or Electric VehicleEV are running through roads and of course, even almost the whole battery of Neuro-Linker's mobile machinery uses a lightweight/high capacity SiliconSi nanowire battery. However 20 years in the past, secondary batteries emphasizing safety were taught in science time. The name certainly is — nickel-hydrogen battery. It was like the backbone of Nickel Doll's electric attack ability.
The silver colored western doll was not even worried having the HP shaved off gradually by the poison swamp and lightly smiled.
"With that, silver has various special characteristics besides its antibacterial strength. Now, I'll teach that to you."
As soon as it was said, both of her hands were thrust into the poison swamp with a splash. The decrease in the health gauge accelerated and at the same time, the special move gauge filled up exceeding 70 percent in an instant—.
"«Anode-Cathode»!!"
The technique name echoed as it was called. A radiating light-blue spark ran through the surface of the poison swamp with a part catching up to Haruyuki giving him no time to escape.
*Pachii!!* A fierce impact struck him. His vision was nearly whiteout, unable to get his voice out.
"............uh!!"
There was nothing said about the avatar being stiff, instinctively, he jumped to an island behind. A white heat was in the upper left side of his vision with his health gauge grindingly shaved. Falling trapped in this situation, Haruyuki realized that his own strategy of «having a melee combat in the poison swamp» had hidden a huge risk.
The poison's so-called swamp was basically water. Being water with increasing impurities, its electrical conductivity increases. Diving into the swamp was like intentionally having yourself and the opponent be tied by wires.
However—.
Nickel Doll who also has her waist submerged wouldn't be able to escape from the electric attack's damage. Brain Burst, a full-dive type fighting game which unusually have a self-attack, in other words, getting caught up and attacking oneself was possible in this ranged attack. Doll might have thought that she will survive the same damage dealt to her HP but, adding up the damage dealt by the poison swamp at the same time will have her gauge reduced empty.
Concluding at that moment, Haruyuki looked at the opponent's health gauge while enduring the continuous electric shock. Immediately after, there was a further shock.
"Ufufu......, finally noticed?"
Doll's somewhat harsh voice clearly reached his ears.
"Exposed at the same electric current, you thought the damage was going to be bigger. After all, silver's electric resistivity is only a fourth of nickel at room temperature. Silver, among all metals, is the best electricity conductor!"
—geh-, that means I am the most vulnerable to electric attacks among all metal colors!?
Such things, haven't been taught on science yet! In other words I'm at fault, no, it's Ministry of Education, Culture, Sports, Science and TechnologyMEXT's fault! This isn't the time to think about that, something, something, something to do.......
Without taking out a voice or moving a single finger at that situation, Haruyuki rotated his brain gravely.
That special attack won't last for an eternity. At this rate, the electric attack will eventually stop and at that time, the health gauge will be almost taken. Prior to that, Doll basking herself with electricity will consume her special move gauge and have to recharge. The moment this technique stops, I'll commence once again leaving her no place to run.......
Haruyuki's HP just went below 50 percent making the gauge dyed with yellow. Seeing the special move gauge below was almost full-tank at that moment, Haruyuki finally came up with the next move.
Even if his body was paralyzed by the electric shock, Silver Crow still have a body part that only needs willpower to be operated.
"............F-flyy......y!"
There was a thin cry from the space between his clenched teeth. *Jaka* A promising metallic sound echoed as the fold on his back instantly unfolded ten sheets of metallic fins.
"Aa-......!"
Nickel Doll's voice was raised at the same time as a strongly vibrating wing spread out from Haruyuki's back making the wind pressure blow the surrounding water surface away. It was immediately followed by Silver Crow's rocket-like launch with a forceful takeoff. Shaking off the chasing sparks, he soared higher and higher.
AAAAA-......!
Talks of seeing the «Flight Ability» for the first time began to stir the Gallery. Breaking off the floating green phosphorescent fog of the corrosion forest stage, Haruyuki flew. He passed through the Gallery atop the rotting Baobab and continues to rise. Finally breaking out of the forest miasma, the surroundings completely changed into a blue sky.
Flying up to this altitude, he was completely away from the ground. Receiving pouring sunlight, the silver body shone in a 180 degree turn. He then instantly changed to a nose dive.
Sharply pointing his extended right foot and using gravity as his wing's driving force, Haruyuki rushed like a laser. The compressed air was grilled to pieces as orange particles flew out of his toe. He rushed at the green miasma instantly and passed the Baobab tree top once again with the target at the tip of the guide cursor.
On a small island, Nickel Doll looked up at the sky surprised and tried to avoid by greatly jumping aside. However, Haruyuki used his arms and wings to finely tune his orbit,
"U.......AAAAA-......!
Together with a loud roar, his toe tips hit the top of the small enemy's shoulder magnificently.
A giant flash of explosion along with its tremor shook the entire stage.
The small island changed into a crater with a diameter of five meters in an instant. Nickel Doll was blown away in one fell swoop as a repeated tail of a high scream fly around. The health gauge with a nearly 60 percent remaining decreased below the red zone's 20 percent.
Just now, that was Silver Crow's greatest attack named «Dive Attack». In that make or break move, if it was avoided at that time the damage will be inflicted to himself because of being stiff for several seconds, so an attack directly from above out of the line of sight is nearly impossible to avoid. These two weeks, the nearly 70 percent winning percentages was hit solely because of this technique.
In the middle of the crater he made, Haruyuki raised his face while on one knee. If the force from crashing of the blown off Nickel Doll gives damage, the game might be decided here.
—However.
Two giant hands firmly caught the small avatar that was about to thrust around the middle of Surugadai-shita intersection.
It was «Sand Duct». It seems like he abandoned his fight with Aqua Current and came running to hinder Doll's crashing death. The Gallery got excited with the unexpected knight.
Duct's health gauge already fell below 50 percent and turned yellow. Speaking of Karen who was fighting him one on one, she still has not less than 90 percent. The compatibility was one-sidedly large or maybe it was a technique difference.
Aqua Current, bypassed the poison swamp from the south side of the intersection and glidingly approached Haruyuki stopping at his side. She whispered on Haruyuki's stood up ears.
"That was a good blow back there."
"T-Thanks."
Unintentionally shrinking his neck, Karen's words continued.
"However, it hasn't ended yet. Those two formed a combination for some kind of reason. I'm sure they'll pull out their trump card so don't lose focus."
"Y-Yes."
Haruyuki immediately nodded, Sand Duct was standing ten meters away with Nickel Doll on his shoulder angrily shouting.
"Maa〜〜 F-......From above! «Flight Ability» is unfair, too unfair~!"
"E-Even if you say such things......"
Unintentionally objecting, Doll merely thrust an index finger on his unnecessary reply.
"Shut it, shu~t-it! At-this rate~, we'll hit the both of you together with our ultra-gorgeous super special attack~!"
"W-Wai......"
—I wonder if there's such a thing in the Brain Burst system. I'm sure there's none.
Bearing it in his thoughts while thinking, Karen said there will be a «Trump Card» no doubt. Haruyuki's health gauge had 40 percent amount remaining, the technique's scope would probably be a one hit kill. The dive attack from before used up and consumed the special move gauge, he is unable to evade by flying. From below the waist, he concentrated on the enemy's behavior.
Nickel Doll had her right foot on Sand Duct's right shoulder and her left foot on the left shoulder then sharply shouted.
"Sandy, Let's do it!"
"Ou-!"
With a serious answer, the sand giant's giant air-ducts on both of his hands were raised and there was a roaring exchange right and left.
"Ouoooo......Take this, «Turbo Molecular»!!"
They called the technique name in chorus and both of the equipped turbine screws inside Duct rotated in a high speed. However, the directions of left and right are opposite. Apparently, Duct's right hand is an exhaust and is paired with his left hand which has the ability to intake.
"I see, just like what you heard from our private talk before the fight, it seems like that left hand secretly sucks and draws the nearby air."
Haruyuki nodded agreeing at Karen's murmurs. At that time, the air in the middle of Duct's hands moved with violent force. —However.
"But......that, blowing from the right hand then sucking it with the left hand, making it to come and go......what could it mean......"
He leaned his head as he murmured, at that time.
Duct's hands were spread with a jerk and the gap was seen with a strange haze— thinking at that moment, Haruyuki was seized by a tremendous suction power.
"Uwa-......I-It's pulling......"
He hurriedly braced both of his foot, fighting it by all means. The small island was plowed minced, attracted to Sand Duct who was ten meters away. Aqua current was next to him. The whole body covered with water current moves little by little like being peeled off half-way.
"Ufu~n, So~, How's Sandy's «Turbo Molecular Pump»?"
Nickel Doll's triumphant voice reached the direction against the gust. It seems that the wind was intended to capture Haruyuki and Karen.
"I......get it. The turbine of both arms kicks off gas molecules......and is making a vacuum space."
Karen calmly analyzed as she was pulled. Haruyuki suddenly screamed.
"T-T-This is not the time for admiration! A-A-At this rate-, W-W-We'll be sucked-......"
—Speaking of which, when I was a child, I've read a scene in a «Saiyuki» full-dive picture book. On that scene, the air was breathed in that I got so scared I cried loudly making Chiyu laugh at me.
Haruyuki thinking of an escape by going around agitated Karen making her declare everything.
"Don't be scared. The wind power isn't an attack itself. We're only being drawn for a close quarter combat."
"Heh......"
His sight wandered in the space spontaneously, nodding moment by moment.
Indeed, being exposed in this intense wind, both of their health gauges didn't even quiver. This technique probably is among the long-range type avatar that pulls in and brings the enemy into a close quarter combat. However, Haruyuki was a complete short-range type which Karen or Duct is overwhelmingly poor of on a one-on-one match. Going close as expected might be better.
......Alright, if it comes to this, might as well use the wind for a jump kick.
Planning his intentions, Haruyuki began measuring the timing with his eyes seizing the unexpected.
Sand Duct continues to bring forth a vacuum with both hands— Nickel Doll standing on above his shoulder, showed a small smile. That is, the exact smile she had on the verge of trapping Haruyuki in a electric current.
Doll suddenly bent her body and touched the vacuum space made by Duct. At the same time, there was a technique name call.
"«Anode-Cathode»!!"
*Bachibachi-!* An intense spark came out from both of her small hands. Still, that technique is basically a zero range distance, without a conductor, the separated enemy wouldn't take any damage. What exactly is—.
After that, Haruyuki saw an unbelievable scene.
From Duct's both hands, a violent vortex of spark stretched out through the vacuum space toward Haruyuki and Karen's location!
"Uh......Ah......!?"
Haruyuki was only able to raise a scream as he was grazed. The pulling gust as well as the unmoving avatar was wrapped in a dazzling lightning. Again, his sight was in dazzling like shock. His body stiffened, unable to let out a voice.
The storm of electric current mercilessly snatched the remaining 40 percent in the health gauge. In proportion, the special move gauge was re-filled which is not enough to takeoff against the wind.......
"«Glow Discharge»"
Suddenly, Aqua Current murmured.
"Under low pressure close to vacuum, electrode breakdown occurs, making electric current flow throughout the gas body."
"Ufufun, you know well, Bouncer-san."
Sparks came out from both of Nickel Doll's hands as she gracefully smiled.
"This is the first debut of our ultra-gorgeous combined technique in publi~c. So~? Even without the purple hag's high-pressured arc, we're already splendidly effective right~?"
Purple aunt......Who?
Thinking at that moment, his thoughts were blown away by angry sparks.
The combined technique in that dreadful place where the gust obstructs movement as the electric current's damaging power passes was efficient, having an overwhelming low consumption rate on the special move gauge. If this was a single person technique, a full-gauge would only be continuously consumed for five seconds at best. However, with Duct and Doll's special move gauge, Haruyuki's few remaining HP would be devoured grilled with a mere change left.
In the end, here— a chill ran down on Haruyuki's back.
......I am, losing? Lost, without any points left?
However Haruyuki, sitting in despair tempted to give up like from before, gritted his teeth.
—Even if I lose, I'll lose thrusting ahead. That is, the only thing I can do now.
—Even if I have to fly above, I'll fly like from before.
Pierce through the storm of lightning, there will still be HP left even if I get hit head on. I must fly. That person, I believe I'm sure. Then......
Fly!!
In response to Haruyuki's will, the wings at his back faintly shook, spreading—.
"It's alright."
At that time, a calm voice touched Haruyuki's hearing.
A hand was placed at his left shoulder. From its palms, transparent water current flowed into Haruyuki's body as an armor covering. sara, sarasara. Calmly, he was wrapped with a nostalgic streaming sound from somewhere in the world—.......
Fuh, all pain is gone.
The enemy tag's combined attack is about to end, was what he first thought of. However, it wasn't that so. Sparks of glow discharge angrily filled the vortex of vacuum as usual. Despite that electric current, it will definitely not reach Haruyuki's body. It will just pointlessly crawl, perfectly intercepted by very thin water membrane.
However— such things are,
"Impossible!"
It was a shout coming from Sand Duct who continues to create vacuum flow from both hands.
"Water should have been a conductor! Why......Why repel electric current?"
In return, Aqua Current quietly responded.
"My water, doesn't contain any impurities, a «Theoretical Pure Water»"
"Eh......Ah-......!?"
As if guessing something, Nickel Doll gasped. Karen nodded and continued.
"Zero impurity water, a perfect insulator. Shocks don't affect me."
As Haruyuki repels, he confirmed the Health gauge in the upper left side of his vision. Silver Crow's gauge fell below to the bright red with 20 percent while Karen was still at the green with 90 percent left. Doll and Duct's dreadful combined technique didn't give any damage to the «Bouncer».
—Strong. She was till Level 1, but this strong.
That's impossibly a newbie. Probably, she fought in Accel World for a long period of time, long enough Haruyuki could not imagine. A Huge fighting experience, firm confidence in her «Water» attributes and creates a power that is able to blow away level difference easily.
Eventually, both of Doll and Duct's special move gauge almost ran out at the same time.
The protective water membrane from Haruyuki's body returned to Aqua Current with a *Pasha* when it reorganized as she stepped forward then spoke.
"—I was able to see what I wanted to see. It was a good technique, Doll, Duct."
"Annoy-inggggg!"
Just now, Nickel Doll shouted with a shrill voice. Sand Duct's feet were raised up and down stomping and thrusts of index fingers were then directed at Haruyuki and Karen.
"At-once~, battle fairly without tricks! Our pure-will from this last stage, you see it- not yet~!"
"Ouu-!!"
The two big and small avatars exchanged a serious straight-thrust fist at the same time.
In response, the water-current in the armor at Aqua Current's body circulated more violently as a strong answer.
"I ask you. Let's go, Crow"
"Y-Yes!"
Haruyuki nodded and chased after Karen as he kicked the ground.
This is the final climax to look at, the surrounding people from the Gallery cheered in excitement. Along those cheers, the four persons' avatar clashed as a dazzling light and scattered sound lingered.
Everything, the heat and excitement produced by the «Duel», dissolved into a vortex as it climaxed.
[edit]
Part 6
«Intruding» twice, fighting it twice.
Haruyuki's total 70 Burst Points from winning all four of his tag duels was enough for him to be restored to safety zone level.
[With this, the request is completed.]
Haruyuki's consciousness returning to the real world, there was a thought voice that echoed.
A girl with red glasses sits at the opposite side of the table with a finger extending to a white, half-clear exterior of a Neuro-Linker.
Haruyuki also followed by disconnecting the global net at the same time. From the right edge of his virtual desktop, the earth figure icon disappeared. With that, both of their names will now be removed from the Chiyoda area's matching list.
"......Fuu......"
Looking from the XSB cable between the both of them that glittered as it swayed, Haruyuki spat strips of his breath. The indicated time didn't pass 30 seconds since the time from the start of the first duel. However those 30 seconds was much of a time for Haruyuki who was fighting many times as a Burst Linker these two weeks. The echoes of shock from harsh hits and beatings still lingered on his whole body.
Being in a daze for about five seconds, Haruyuki raised his face in surprise and looked at his lady savior, the «Bouncer» Aqua Current's real form.
Her pupil beyond the glasses was filled with light as usual and her lips without a noticeable clear expression.
There was something I wanted to ask her which only increased since the start of the duel. But now, it is likely that I won't be able to do anything like before.
Staring curiously at the pupil of the other person from the front for more than a second, all of his thought was passed across the direct connection cable.
[......Thank you, very much. Truly......Thank you......very much.]
No matter how many times he blinked to bear it, unconsciously, tears spread.
Karen looking at Haruyuki showed an extremely faint smile and whispered.
[I had fun too. Also, thanks to your hard work, I was able to see a lot of Burst-Linker's trump card.]
[Y-Yeah......]
Indeed, Aqua Current, in the first match fought with Nickel Doll & Sand Duct, destroyed their so called «Super Special Attack» with a blade of stream from right in front of them when both of them brought in a close quarter combat. The development was the same for the preceding three duels, there was a pinch scene every time. Of course, the Bouncer at important times protects Haruyuki with confidence and strategies.
Haruyuki, reminiscing about the high thrill fight, suddenly murmured.
[......I can't think of which is better among the trump cards used......]
[That's pointless.]
She said, and the slightly older lady had a mysterious smile.
Thinking of those words, Knowing Silver Crow's ability beforehand, demanding «Real Information» as compensation for the request and above all, this woman evidently has a comprehensive Burst-Linker's complete information gathered. However, the purpose can't be even imagined till now. No, in the first place, she truly being a «She» is still unsettled like before.
Haruyuki let out his breath once more being relieved for escaping the near death situation with Aqua Current's interesting mysteries mixed in his mind. He tried throwing a bland question since proceeding with a straight to the point question might not be answered.
[Umm, come to think of it, I've heard about this from my friends accelerating from Chiyoda area. That it is very wide and in the middle of it, there's a huge wrong area entry battle.]
[Basically that's true.]
The inward curls of Karen's short hair swayed as she nodded and once again took a sip from her steaming Darjeeling tea.
[Still, there are a lot of schools running from Ochanomizu to Jinbouchou making it inevitable for many Burst Linkers to make it their home. Everyone's feeling in fighting at their home is the same and at Saturday afternoons, gathering to «Duel» in the neighborhood has become a customary.]
[H-Heh......—That means, it wouldn't be strange that it is also Karen-san's home......?]
Haruyuki just gave the question however, Karen naturally didn't answer. Instead, a calm thought of explanation continued.
[But I just chose this place today, if by chance you entered the no entry zone side run away from it.]
[Y-Yah—......I see......]
Greatly impressed, he let out a long sigh once again. Skillful Burst Linker such as Karen has already looked from the area selection before the fight starts.
—I couldn't be pleased just because of escaping from a pinch. I have to learn a lot from here. My Burst Linker road has just begun......first, my partner— I have to follow and reach the level 4 Takumu.......
Thinking at that time, Haruyuki just remembered that Takumu was waiting a hamburger shop. Since it's just on the other side if the intersection, it wouldn't even take 20 minutes. Haruyuki restoring his points to safety, he wouldn't have to worry about total loss anymore for certain.
I can't ask anything and really want to know about Karen but, I have to report to Takumu first. I'm sure I'll meet Karen again. Next time, it wouldn't be a client and bouncer but simply as fellow Burst Linkers.
Thinking of that, Haruyuki took a deep breath and bowed his head once again.
[Umm, I have a friend waiting nearby. I'm sure he's worried, I'll leave soon.......—Karen-san, thank you very much for today.]
[......You're welcome.]
Saying that, Aqua Current had her greatest smile since their collision in front of the comfort rooms. With that smile, in Haruyuki's ears— a voice continued.
[However, one more thing, there's still something I haven't taken from you.]
[Eh......Y-Yes, what is it......?]
Haruyuki put his elevated hips back to his seat and blankly blinked. Beyond Aqua Current's red glasses, her eyes narrowed and then whispered.
[The deferred payments of the compensation.]
Then, her lips faintly moved, reciting the accelerate command silently.
*Bashiiii-!* An impact sound struck Haruyuki's consciousness.
On his dim sight, a familiar series of font blazed red.
[HERE COMES A NEW CHALLENGER!]
The fifth duel field for today was pouring heavily with a pale light, it was the «Moonlight» stage.
The rooftop of the palace-like building was dyed with bone resembling color with Haruyuki, standing still in shock.
The Gallery didn't appear at the surrounding. It's because in here, there wasn't anything that is permitted to enter except the persons to duel, a closed «Direct Connection Duel Field».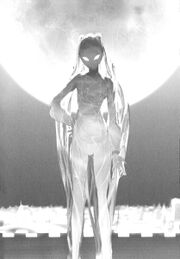 On a bit further place, an incarnation of still standing water was dyed with the moonlight's abundant pale golden color. Scattering from both hands and legs as if arched wings from the limbs back to head, the water current raised a faint streaming sound.
The time count figure starting from 1800 going down to 1770, Haruyuki finally opened his mouth and said his words timidly.
"U-umm?......What are the deferred payments of the compensation......? Also, specially dueling for it is for......?"
With water flowing in its back, a blue light slowly twinkled on its eyes once again.
"The payment, I'll steal all of your remaining points right now......didn't you think about it?"
Her voice without the strong filter she constantly used on the four battles, it resembled Karen's natural voice in the real world. With such things in his mind, Haruyuki slowly leaned his head.
"My......points? But didn't you just recover it.......?"
"Recovering it and at the same time gathering information, I analyzed your battle potential to steal and exhaust every root and branch. That way, I can earn multiple points efficiently than fighting in solo."
*Topon*
A light water sound was raised as the avatar made a step closer.
However Haruyuki who was standing still was able put the following questions out his mouth.
"......Even if you sat roots and branches......can you steal 70 points in one battle......?"
"The scary thing about direct connection duels is, being unable to remove the cable immediately. Your consciousness returning to the reality after the battle, before your arm can move to remove the Neuro-Linker cable, the opponent would have already accelerated once again."
*Topon* Another step closer.
"B-But......your failure as a guard, there wasn't even a Burst Linker that had a total loss till now......"
"For certain «there wasn't a person with total loss among the usual duels with the Gallery around». After that, an unseen direct connection duel where the Burst Linker vanishes, why is there no talk of it?"
Trembling words came out of Aqua Current's mouth as the flow of water returning to the body hastened and she then whispered to Haruyuki.
"Now, prepare. Show me your everything."
Immediately, a fierce pressure surged from the thin avatar making Haruyuki hold his breath.
Haruyuki had only felt this kind of pressure once. It was when he was looking at the avatar of his master and parent Kuroyukihime, «Black Lotus», at that hospital rooftop.
Still in awe, he raised both of his hands and prepared for the consequences—.
However, Haruyuki immediately lowered it loosely.
"......Giving up?"
Still pressured, Haruyuki shook his head a little and answered Aqua Current's question.
"Umm......, a bit, closer"
Even in this situation, for some reason his consciousness was calm. He did not give up, Aqua Current's words were complete lies and cannot be trusted. Nevertheless, Haruyuki lowered his hands because of the important things inside him and whispered.
"You see......I, from the time the first tag was fought with Karen-san......No, before that, from the time we bumped in the comfort rooms, to you, what I'm saying is.......I believed in you. This person is a good person, this person will surely save me."
The water current on the other side had the blue eyes twinkle once again. Staring at the light in front, Haruyuki continued to talk.
"I mean......even if you betray me, I won't fight you with hatred. —I, a while ago, really fought with a friend who's now waiting below. The feelings we held for each other for long years...... we fought hitting each other with anger and hatred. But, at the end of the battle I believed in him, and he believed in me. At that time......I chose. Once I believed, I'll always believe. That's because......I believe those myself."
Below the silver mask a small smile appeared and he took a deep breath to continue his last words.
"......Also, me, to you, what I mean is, I......like, you. Even as a woman, even as a man."
Aqua Current hearing those, blinked once again— the intense pressure coming out of her body vanished.
She crossed her arms as the water current on her body integrated and murmured.
"......Sorry. The thing from before, it's a lie."
The moment Haruyuki heard it, even if he has believed, he still somewhat stumbled.
Somehow gaining a hold of his footing, he stared blankly at Karen for a while and asked.
"Eh......W-Well......why, did you?"
"Since your left defenseless in a direct connection, I felt like threatening you a bit. But I think it wasn't that effective."
"......No, That is, really nerve wracking deep inside......"
Looking at the murmuring Haruyuki, Karen with her water current smiled gently at the other side— it was how it felt.
A sound of water rose as she stepped up, changed her body's direction beside Haruyuki, and looked up at the large full moon floating at the night sky. Haruyuki looking at same sky, a small voice reached his hearing.
"Important friends, I want them too."
"......Eh, that means."
"......very long ago......even I, have companions......and friends. Also, believing more than anyone else, cherishing the «Master»."
A secretive voice and a calm sound of water streamed and flowed. Haruyuki felt the streaming sound for a very long time.
"But something happened, and everyone became apart. The master disappears from Accel World, and every single friend, leaving only one alone as they went far away. However, I still believe. Once again, everyone will gather......again, looking above at the beautiful night sky, the time when everyone walks together will come......"
Suddenly—.
Haruyuki saw a vision.
Beneath a lovely starry sky, there was a lot of marching avatars. Busily talking, laughing, walking a distance without an aim.
"Ehh.......I'm sure......that time will come."
Haruyuki murmured, Karen gently placed her right hand on his shoulder.
She moved to the front from the left side, and also placed her left hand on the shoulder. From a very close distance, Haruyuki's vision only had the face of the water avatar at that moment.
Aqua Current, firmly looking at Haruyuki's eyes, had a smile and said.
"What I said earlier are mostly lies but, there's something that's true."
"Eh......W-What is it?"
"From you, I still haven't received the deferred payment of the compensation."
Blankly staring, Haruyuki's whole face was drawn near as Karen whispered.
"That is, the me inside you. The memory of me."
"Eh......M-Memo......ry?"
"Yes. For you and I to meet, it's still a bit early. From here on , you must support your «Master» with your hands and do not walk one step at a time on your very long journey. Still from there, we «Elements» shouldn't intervene."
Haruyuki almost could not understand the meaning of Aqua Current's words. Opening his eyes dumbfounded, the flowing transparent water and the blue eyes were filled with light.
"In the belief that someday she will draw her sword once again, that will be the time when I'll step my foot— We will surely meet again. That's why now, I'll erase the me inside you."
"......B-But......erasing my memories......how will you do that......?"
What came out of Aqua Current's mouth was unbelievable. Trying to understand somewhere inside his head, the shaking light on the rustling stream covered his consciousness, flushing away his thoughts.
"I have......I just, can do it. «People are filled with a circuit of water, all knowledge and memory that flows into this water can be passed»......That is my shin'i."
"Shin......i......"
Haruyuki vaguely murmured as Karen pressed her forehead against his forehead.
The whole world was wrapped with a flow of water. Somewhere in the distance, a voice was heard.
"Then......now, I bid farewell. Let's meet again, Silver Crow. Your wings will lead you to the end of your journey, again, someday......"
sarasara. sarasara. The water flowed into Haruyuki. His consciousness, thoughts and memories was filled and passed with it.
"—«Memory Leak»"
From a very far distance, the voice can still be heard. A white stream of light washed away everything— everything was drifting away.......
At the end, someone's voice whispered softly.
Count to fifty, and open your eyes.
[edit]
Part 7
......forty-five, forty-six, forty-seven.......
With his eyelids remaining closed, he innocently counted.
......forty-eight, forty-nine............fifty.
He slowly opened his eyes.
There is a white round table. Similar to what was in the school lounge. On the table, there was a glass with 1/3 remaining orange juice on it. Opposite of it was an empty chair.
Haruyuki looked around blankly while twinkling his eyes.
This is a cafeteria. On the other tables, there were same-aged youngsters and elderly customers enjoying the afternoons with their paper-media books.
——I.......
—I came here to duel, requesting to be guarded by a «Bouncer»...... to restore my merely remaining Burst Points, a tag was fought...... and won.
Yes, a victory. The points went back to the 70 level. With this, there wouldn't be any fear of total loss.
The details of the fight were mysteriously fuzzy. On the contrary, it seems to flow away trying to remember from the start.
However, Haruyuki clasped his hands and made a small guts-pose despite having mysterious thoughts.
"I will never level-up carelessly again......"
Murmuring with a small tone, he panickedly lowered his head to avoid the surrounding suspicious gazes. With too much relief, he suddenly became hungry and drank the remaining juice from the glass in one go but it wasn't enough.
—I'll report this successful operation to Taku and eat hamburger.
Thinking of it, Haruyuki stood up vigorously. The management of the bookshop's cafeteria still uses a glass-made tube where the paper bill was inserted. Picking it up to confirm, the only thing written was one orange juice for 380 yen.
He checked out at the register — only over the Neuro-Linker of course — and went down to first floor using the elevator. He came outside through the new publication corner. The cold November breeze made him shrink his neck as he crossed Surugadai-shita intersection's crosswalk when the signal light turned blue.
Takumu is waiting at a fast food shop where they will meet shortly. He ran like weaving through the crowd and was about to pass through a big automatic door. A female customer went out from inside at the same time, avoiding to the side, they passed each other. The curl of her hair that was about ten centimeters swayed on the sides with a faint drifting fragrance.
......sara, sarasara.
Suddenly, Haruyuki felt like a light streaming sound was close to his ears and stopped, standing in front of the automatic door.
"Eh......?"
Turning around, there was no flowing water naturally. The was clear and the walkways' tiles are dry.
He thought someone spilled a beverage bottle but that wasn't the case. There was an elderly with a paper bag with the bookshop's logo on it, a group of foreigners sightseeing in Jinbouchou's bookshops and a figure of a girl walking away in a quick pace which doesn't seem like someone that have the same sound he heard.
—I guess, it's just my imagination.
Haruyuki turned and forgot about the sound of water as he quickly entered the hamburger shop through the automatic door.
Looking at the surroundings, his best friend's waving hand, who was sitting near the window at the left side, jumped into his view.
Haruyuki then had a sense of a successful operation from his expression. Also, Haruyuki had his right-hand thumb up—.
Seeing Takumu's ordered face, which has a crumpled smile that looked like he was crying in joy, he ran in a straight line.